---
Bronze Rhino
David Shepherd
CBE OBE FRSA FGRA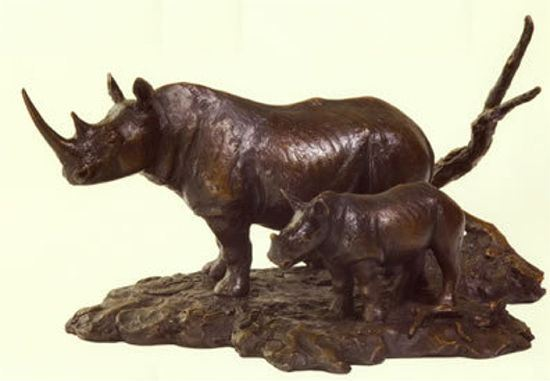 "The Tsavo Rhino, bronze".
A signed, limited edition sculpture of 95
Signed and numbered by both David Shepherd and the world renowned sculptor Mick Simpson,
The bronze is individually stamped with its edition number.
Height of sculpture 15cm.
Weight 3.5 kg.
Family: Rhinocerotidae; Owen, 1845
Order: Perissodactyla
Mass: White rhinoceros: 2,300 kg, Indian rhinoceros: 2,200 kg, Black rhinoceros: 800 to 1,400 kg
Speed: White rhinoceros: 50 km/h, Indian rhinoceros: 55 km/h, Black rhinoceros: 55 km/h
Gestation period: White rhinoceros: 16 - 18 months, Indian rhinoceros: 15 to 16 months, Black rhinoceros: 15 – 16 months
Lifespan: White rhinoceros: 40 - 50 years, Indian rhinoceros: 35 to 45 years, Black rhinoceros: 35 to 50 years
30 years experience and a collection of hundreds of David Shepherd signed, limited edition prints in the UK!
Studio open, 7 days a week!
Viewing by appointment
L.S. Lowry
click
.
Sir William Russell Flint
read
here.