Steam Trains
signed limited edition prints
David Shepherd
CBE OBE FRSA FGRA
---
---
99.9% of signed, limited editions shown below are in stock, although we usually have only one print of each title
We will endeavour to better any quote and give you the finest possible service
Scroll down and Click on image for details & to ENLARGE; Alphabetical order
*
indicates Special offers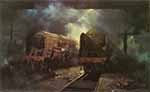 Giants at Rest *
Signed limited edition print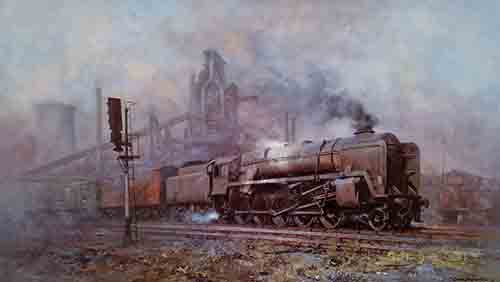 Heavy Freight
Signed limited edition print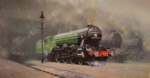 Scotsman '34
Signed limited edition print

Over the Forth
Signed limited edition print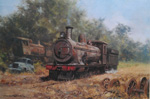 Zambezi Sawmills Railway
Signed limited edition print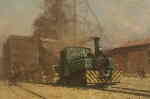 On a SubNigel Mine in the Transvaal
Signed limited edition print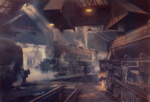 Willesden Sheds
Signed limited edition print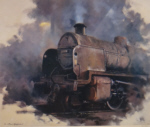 Guildford Steam Sheds
Set of three Signed limited edition prints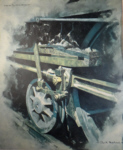 Oil Muck and Sunlight
open edition print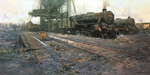 Black Five Country
Signed limited edition print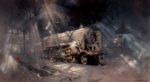 On Shed
Signed limited edition print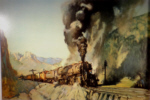 Terence Cuneo
open edition print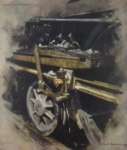 Oil, Muck and Sunlight
Signed print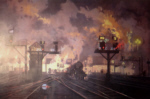 Service by Night
Rare open edition print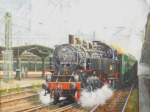 Pulling in to the station
Original oil painting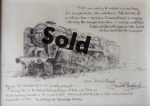 Black Prince
Original Pencil Drawing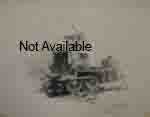 train breaker's yard
Original Drawing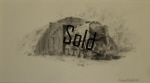 Steam Train emerging from the shed
Original Pencil Drawing


A steam locomotive is a type of railway locomotive that produces its pulling power through a steam engine.
These locomotives are fuelled by burning combustible material, usually coal, wood, or oil - to produce steam in a boiler.
Steam wasn't systematically phased out in the U.S. until the 1960s. Today, there is still one steam locomotive operating on a Class I railroad in the U.S., the Union Pacific 844.
For the most part, though, the U.S. and the rest of the world have converted to electric and diesel.17 Oct 2012.
Flying Scotsman has been described as the world's most famous steam locomotive.
In a 2015 poll which questioned people from four continents it was again ranked the most famous locomotive.

If you would like to visit the studio in Nottinghamshire, (Saturdays and Sundays are fine too) Please call 01623 799 309
We have a collection of over 500 David Shepherd signed limited edition prints and original paintings for sale.
The fine watercolours that can be seen here are the result of many years of work by the acclaimed artist Sir William Russell Flint.
We specialise in David Shepherd paintings and limited edition prints.

30 years experience and a collection of hundreds of David Shepherd signed, limited edition prints
Studio open 7 days a week!
Viewing by appointment
administrator@davidshepherd.com
Lazy Hazy Days of Summer
Jaguars
Jimmy's Forge
Rhino bronze
Oil muck and sunlight
Tiger 1, original
Mice
Jaguars
Playtime
Storm over Amboseli
Cheetah pencil 1999
White Tiger of Rewa
Tiger's head 1983
Elephants sketch
lion original
polar bear
lion cub cameo
Grannie's Kitchen
Brompton Square
Back to David Shepherd prints for sale