Andrew Barclay
David Shepherd
CBE OBE FRSA FGRA
---
---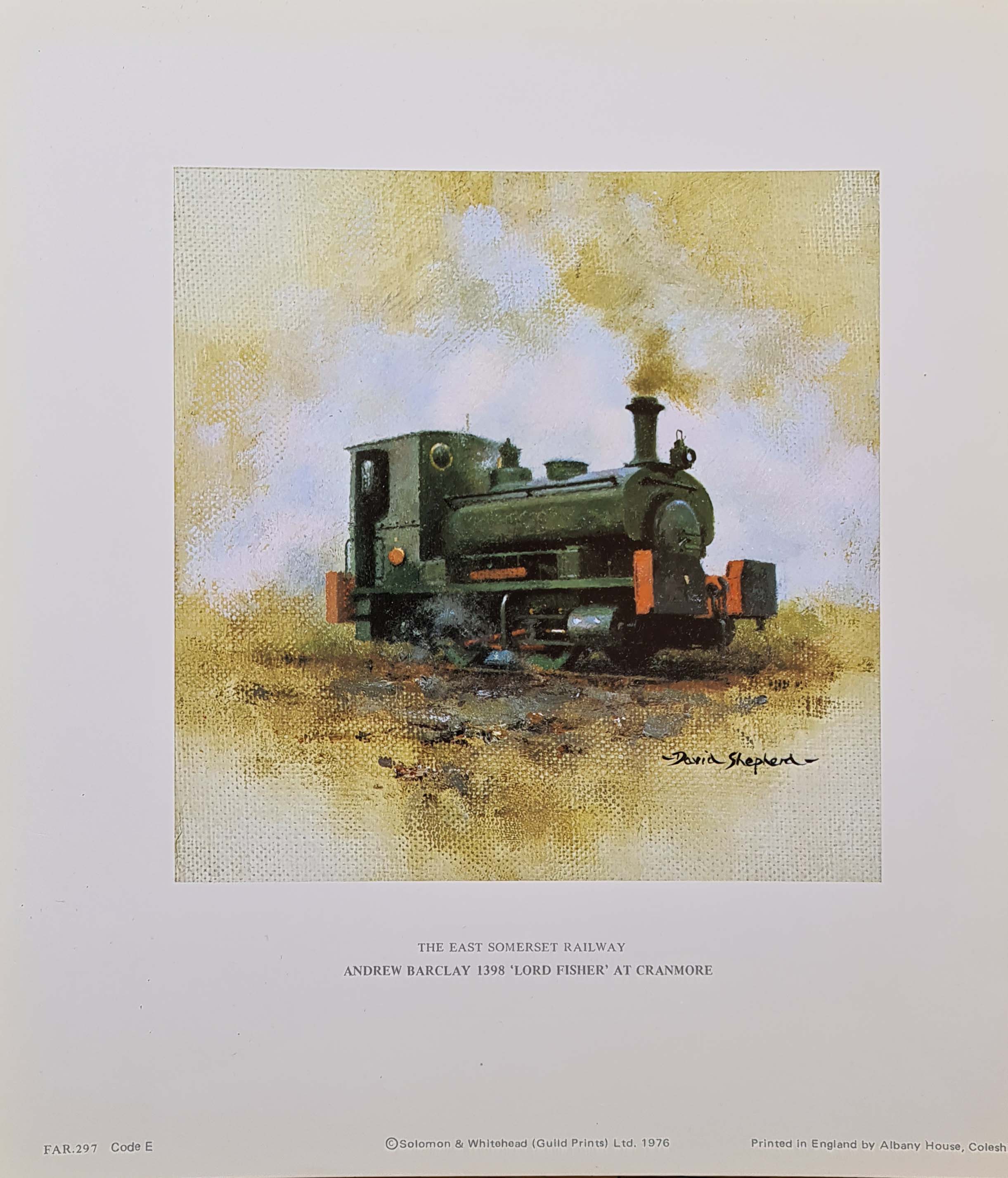 'The East Somerset Railway''
Andrew Barclay 1398 'Lord Fisher' at Cranmore
Image Size 6" x 6"
Date of publication 1976
Price:- £10 inc. vat (print, loose)
For a limited time we are offering the set of three prints together for &pound25.
This print, along with 'Austerity' and 'Dubs Crane' are exceptionlly rare, in that they are in
mint condition
, and have been stored in the publisher's archives since 1976
Most of the prints that have been framed since this time are now badly faded...
Andrew Barclay Sons & Co., currently operating as Brodie Engineering, is a builder of steam and later fireless and diesel locomotives.
The company's history dates to foundation of an engineering workshop in 1840 in Kilmarnock, Scotland.
After a long period of operation the company was acquired by the Hunslet group in 1972 and renamed Hunslet-Barclay;
in 2007 the company changed hands after bankruptcy becoming Brush-Barclay as part of the FKI Group.
In 2011 Brush Traction and Brush-Barclay were acquired from FKI by Wabtec.
The site was acquired by Brodie Engineering Ltd in July 2020.
© S & W © David Shepherd
David Shepherd, CBE, FRSA, FRGS, OBE.
Signed, limited edition, prints and original paintings, drawings for sale.
30 years experience and a collection of hundreds of David Shepherd signed, limited edition prints in the UK!
Studio open 7 days a week!
Viewing by appointment
EMAIL:-
administrator@davidshepherd.com
A watercolourist, whose work needs little introduction in the world of art is Sir William
Russell
Flint.
We stock hundreds of this artist's signed limited edition prints and always a fine selection of his original watercolour paintings.
In the heart of Sir William Russell Flint country, deep in south west France, near to the beautiful towns of Brantome
and Perigueux is a
House
to let in France offering complete tranquility and relaxation.
For those who appreciate the wildlife of Africa, India and Britain,
prints
and paintings by David Shepherd
The work of L.S.
Lowry
has become some of the most sought after in British history; his paintings and signed prints are achieving record prices in the artworld,
made even more collectable due to the rarity of the work and the relatively few signed limited edition prints that have been published.
africasilk
ahmed
ahmed, pencil, elephant
Arctic Foxes
bronze-rhino
catmender
Checkpoint at Fork Hill
cheetah-pencil1999
cooltiger
cottagecompanions
donkeys
elephantdrawing495
Elephants at Tsavo National Park
Falkland Islands, signed, prints, military
Guild, code list, 1973-2003
Hippos
hotpotami
American Bison, Yellowstone
How to make money through art
inthemistsofrwanda, Gorillas
in the shadow of Kilimanjaro
Investing In The Volatile World Of Art
isitaladybird
ivoryistheirs-sketch, elephant
LearnMoreAboutTheIncreasingValueOfArt