English Summer
David Shepherd
CBE OBE FRSA FGRA
---
---
Poster print of decorative value only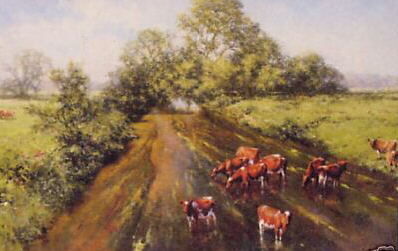 English Summer.
Unsigned, open edition print, of decorative value only
Not in stock.
Summer is the hottest of the four temperate seasons, falling after spring and before autumn.
At or around the summer solstice, the earliest sunrise and latest sunset occurs, the days are longest and the nights are shortest, with day length decreasing as the season progresses after the solstice.
Days continue to lengthen from equinox to solstice and summer days progressively shorten after the solstice,
so meteorological summer encompasses the build-up to the longest day and a diminishing thereafter, with summer having many more hours of daylight than spring.
Reckoning by hours of daylight alone, summer solstice marks the midpoint, not the beginning, of the seasons.
Midsummer takes place over the shortest night of the year, which is the summer solstice, or on a nearby date that varies with tradition.
L.S. Lowry
click
.
William Russell Flint
read
here.
house to let click
here
Back to
David Shepherd
prints for sale.