---
Leopards (wildlife of the world)
David Shepherd
CBE OBE FRSA FGRA
"wildlife of the world" Signed, limited edition prints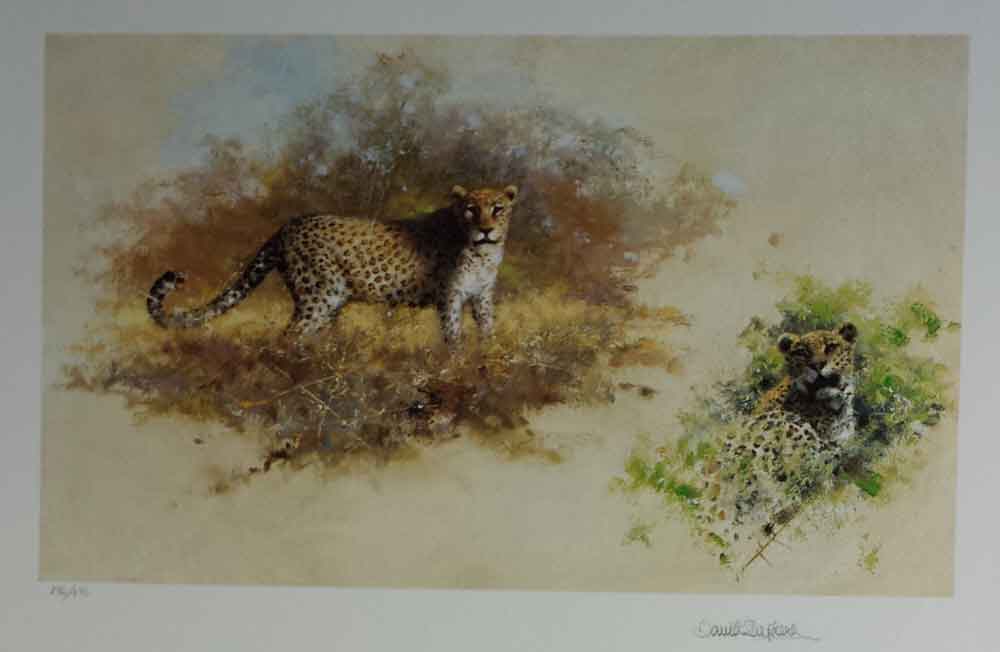 "Wildlife of the World
Leopards
Boxed portfolio comprising 8 Signed, limited editions
Date of publication 1998-1999
Mint condition
"wildlife of the world"
Biography of wildlife artist, David Shepherd, CBE, FRSA, FRGS, OBE.
Internationally recognized as the world's best wildlife artist. David Shepherd has at all times felt that he had a duty in the form of conservation towards the world and the animals that inhabit our planet. In his lifetime, David Shepherd has painted and drawn many pictures, and is able to share his many tales and experiences with people internationally, often talking at charity dinners and prestigeous social events. His persona lends itself naturally to this cause, as he is a most approachable down-to-earth fellow who enjoys sharing his pleasure of art and his concern over the diminishing wildlife throughout the world. In his early days, he was 'thrown' into the creative world purely by chance, as he wasn't particularly keen about other college activities.
David Shepherd is commonly quoted as saying that upto his late teens his life was not very successful, as he always had an ambition to be a game warden in Africa. So after ending his schooling, David Shepherd left England with the concept of a career within the national parks of Africa. Unfortunately, he was promptly instructed that there was no place for him, and his childhood desires lay in ruins. Throughout school days, his foremost curiosity in art had been as a substitute for the compulsary games of rugby which left him with quite frightened.
Unable to understand what would possibly possess people to roll around a muddy rugby pitch and endure horrible injury, David Shepherd took refuge in the faculty artwork department where he produced a hideous picture of some birds, which he brings along with him to this present day when public speaking.
After his dissappointment at not been given the chance to be part of Kenya's game warden neighborhood, he managed to find a job in a neighborhood resort on the coast working within the reception for one pound per week. David Shepherd started to paint pictures of birds, and by chance managed to sell seven pictures at ten pounds a canvas, which allowed him to pay for his ticket back to England on the Union Castle steamship.
When back in England he saw two possibilities of career for himself. Either David Shepherd could try to make it as an artist, or drive a bus. After careful thought he decided the bus driver choice was by far the safest bet, as it was well-known that almost all artists had little cash or prospects. His father helped at this level and urged that if he actually needed to develop his artistic skills, he would want some training.
David Shepherd set off to the Slade school of fine art in London with his bird picture, unfortuinately he was told that he had no artistic ability and that instructing him would be pointless. Driving a London bus was beginning to appear the extra likely possibility, until by complete coincidence, he met an artist called Robin Goodwin who was regarded as a highly skilled marine artist. He never worked with apprentices, but luckily for David Shepherd, he agreed to see some of his work. The very subsequent day David Shepherd arrived at Robin Goodwin's studio in Chelsea with his 'bird' painting, and to David's sheer amazement Robin Goodwin agreed to help him. It is because of this artist that David achieved the creative staus that he enjoys in the present day, and has at all times a feeling of deep gratitude for the help he acquired from Robin Goodwin.
Cornwater Fine Art specialises in David Shepherd paintings and limited edition prints.
30 years experience and a collection of hundreds of David Shepherd signed, limited edition prints in the UK!
Studio open, 7 days a week!
Viewing by appointment
EMAIL:-administrator@davidshepherd.com
Visit the studio in Nottinghamshire

The work of L.S. Lowry see here.
After an incredibly successful exhibition at The Tate Gallery this summer.. 2013, Lowry's signed prints
and original work have become amongst the most sought after art in the country.
His work is now highly collectible, and due to the few signed limited edition prints available,
they are proving to be an excellent financial investment.

The fine watercolours by Sir William Russell Flint need little introduction; The site displays a collection of hundreds
of signed limited edition prints and original paintings available to purchase
Russell Flint painted beautiful watercolour images throughout France, to an unsurpassed technical brilliance.
Several signed limited edition prints of paintings from Britanny, The Loire, Ardeche, and Provence are now available, and
We have for sale several original paintings from the south west France, near to the beautiful towns of Brantome and Perigueux and also Languedoc
His work has now become regarded as some of the finest watercolour paintings in the world.

Dordogne, in south west France was a particular favourite of Sir William. A detached cottage available to rent in this area can be seen here
Complete with lake, pool, and 5 acres of grounds.
Not only well known for its specialities such as truffles, walnuts, wine, and controversially foie gras, the area is of outstanding natural beauty,
with many 'untouched' villages and towns, hundreds of years old, and radiating an ever diminishing way of life.

Back to David Shepherd signed prints for sale