British Army Training Unit, Suffield
Roger Dennis
---
---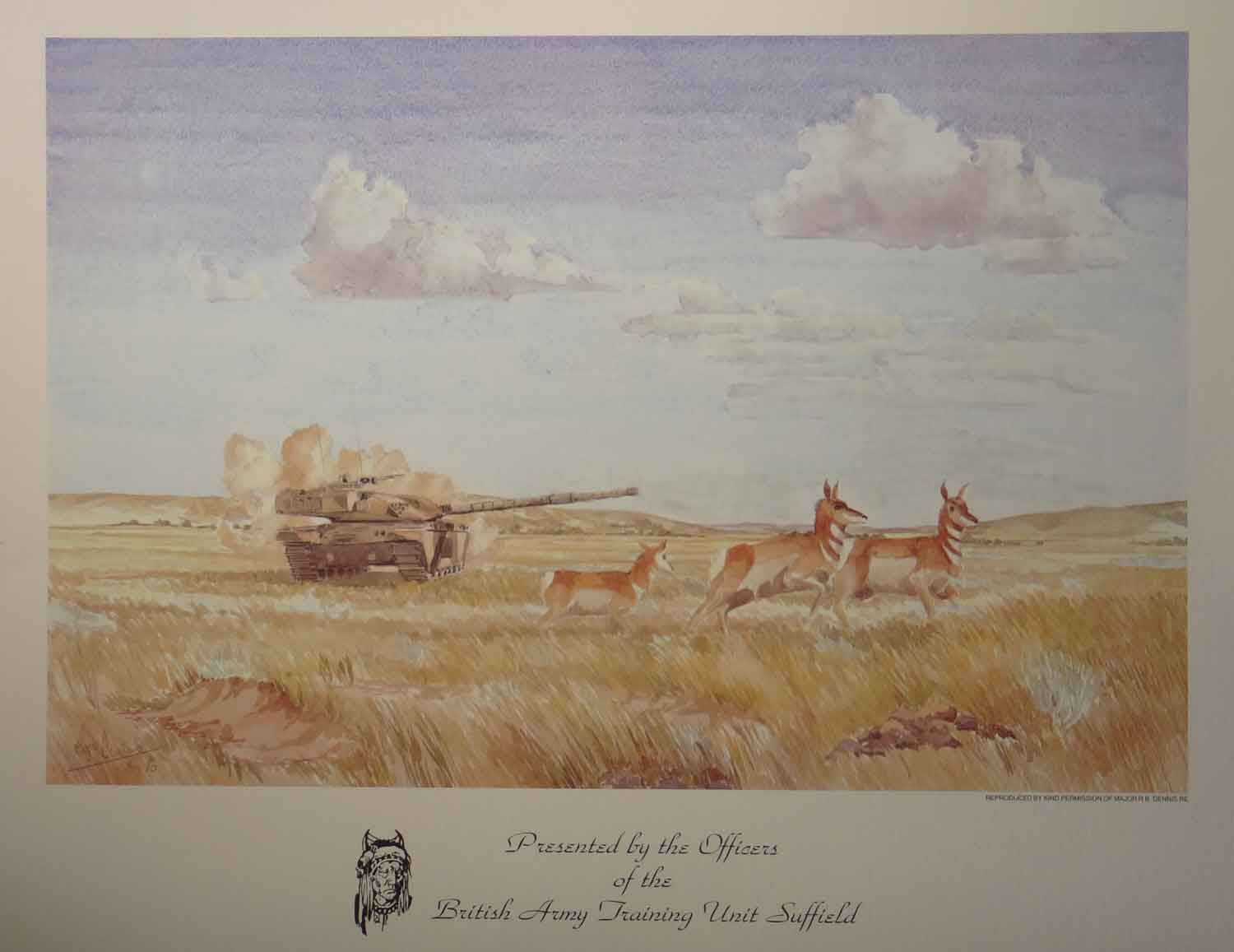 Presented to the Officers of the British Army Training Unit, Suffield
August, 1980
open edition print
by Roger Dennis
Image size 20" x 13"
The British Army Training Unit Suffield is a British Army unit located at the vast training area of Canadian Forces Base Suffield near Suffield, Alberta, Canada.
BATUS is equipped with in excess of 1000 vehicles including a full complement of Challenger 2 tanks and Warrior Infantry Fighting Vehicles.
More than 400 permanent staff and 1000 temporary deployed staff provide highly demanding combined arms manoeuvre training for the armoured forces of the British Army and our allies.
The training area at BATUS is approximately 2,700 square kilometres. Armoured battlegroups, each containing approximately 1400 soldiers, conduct live firing and manoeuvred exercises at BATUS each year.
In 1969, Colonel Gaddafi led a coup in Libya, took control of the country and proceeded, after negotiations, to close down British military installations located at El Adem and Tobruk, and American installations located near Tripoli.
This presented the UK with a problem, as there were no areas large enough to allow the British Army to undertake large-scale armoured warfare exercises in Europe.
In 1971 a 10-year lease was signed between the British and Canadian Governments that authorized battle group training to take place in the Suffield area by the British Army.
In January 1972, the British Army Training Unit Suffield was formally established.
In July, the first live rounds were fired by the 4th Royal Tank Regiment Battle Group. In 1981, the lease for Suffield was extended, and in 1991, the lease was again extended.
In 2006, on the expiration of this lease, the British and Canadian governments concluded an agreement that would allow British forces to maintain their training practices in Canada indefinitely.