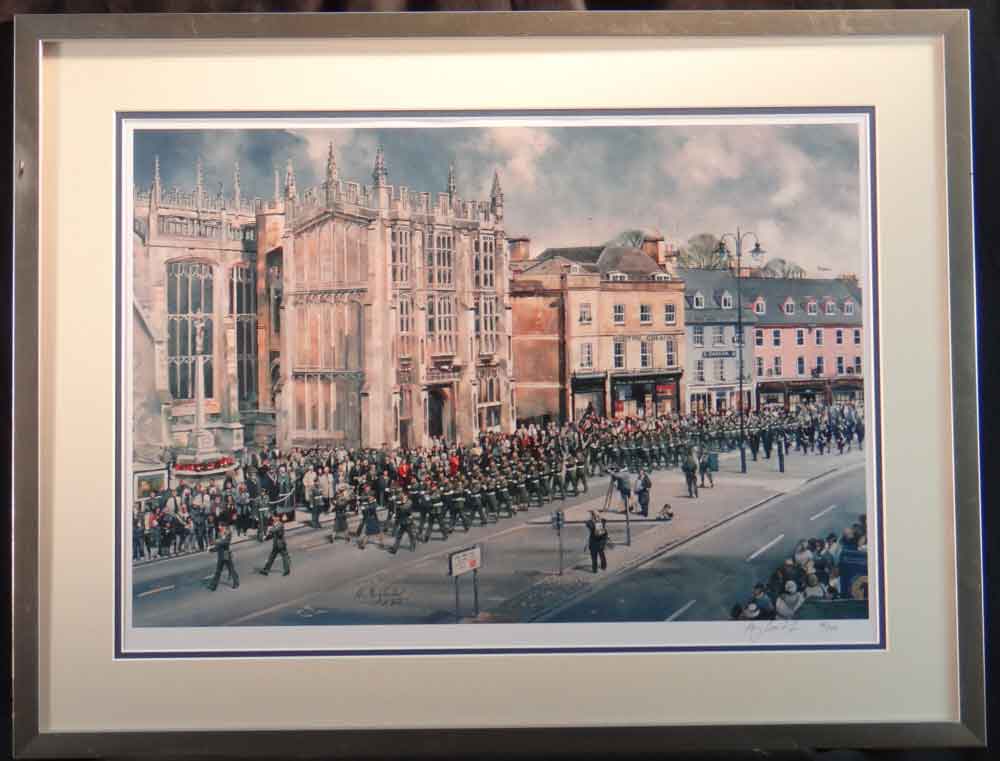 "Freedom of the Cotswolds" parade
March, 2005
Cirencester, St. John the Baptist church
Market Place as seen from Barclays bank
Complete with framing
Signed, limited edition of 104
Image size 54 x 37cm
Overall size 71 x 54.5cm.
Price £195
Cirencester lies on the lower dip slopes of the Cotswold Hills, an outcrop of oolitic limestone. Natural drainage is into the River Churn,
which flows roughly north to south through the eastern side of the town and joins the Thames near Cricklade a little to the south.
The Thames itself rises just a few miles west of Cirencester.
The town is split into five main areas: the town centre, the village of Stratton, the suburb of Chesterton (originally a village outside the town), Watermoor and The Beeches.
The village of Siddington to the south of the town is now almost contiguous with Watermoor. Other suburbs include Bowling Green and New Mills.The area and population of these 5 electoral wards are identical to that quoted above.
The town serves as a centre for surrounding villages, providing employment, amenities, shops, commerce and education, and as a commuter town for larger centres such as Cheltenham, Gloucester, Swindon and Stroud.
administrator@davidshepherd.com