---
Buying Art Prints For Gifting
David Tatham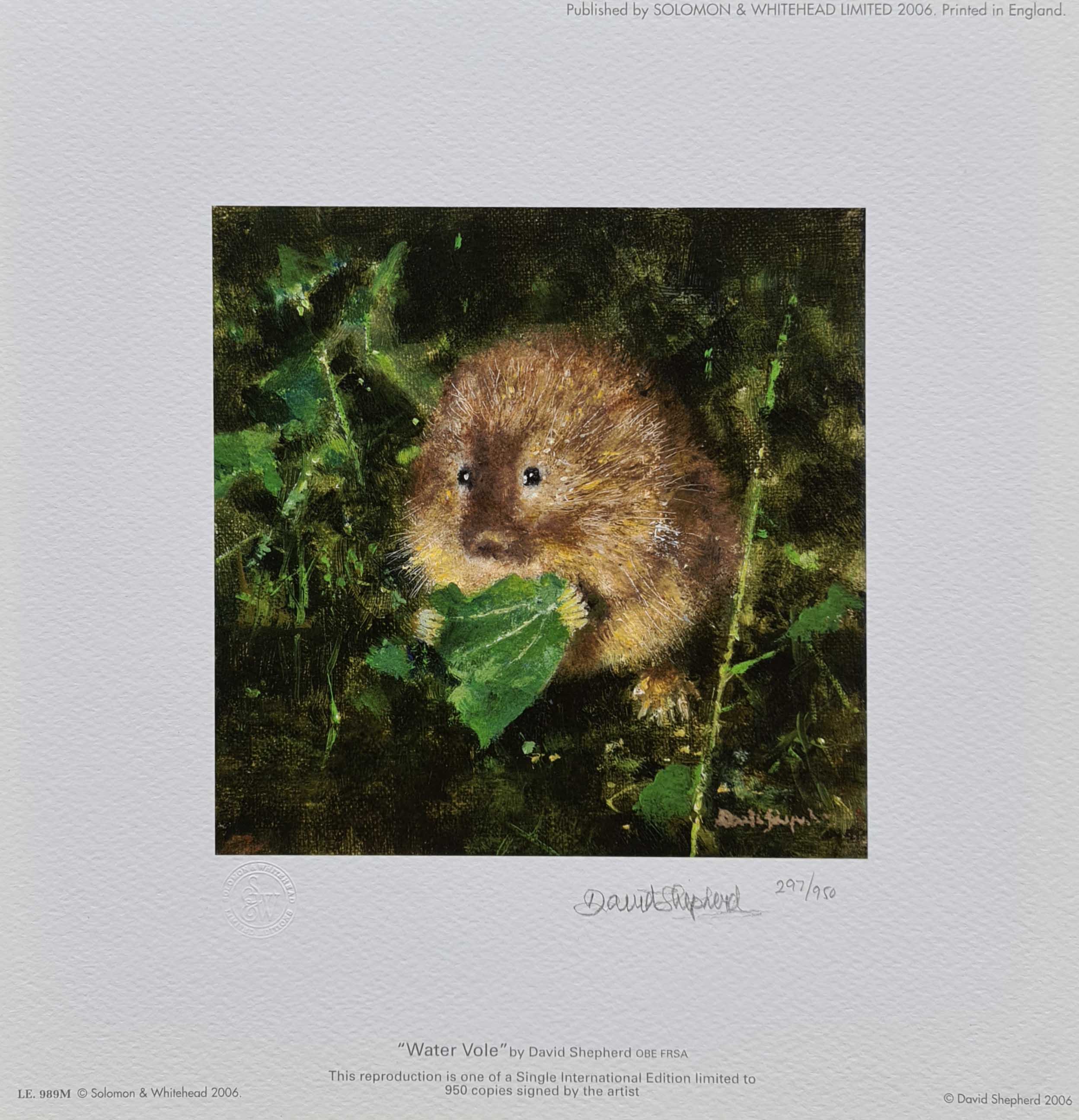 "Water Vole"
Signed Limited Edition print
Published April 2005
Image Size:- 6" x 6"
Buying Art Prints For Presents by David Tatham Beautiful art work is an inspiration for a large number of people who are impressed by it. Such master pieces are valued by lovers and critics both emotionally as well as for investment purposes. While many people are unable to afford the original pieces, the option of prints makes it possible for them to own these.
These are affordable alternatives that provide the same kind of beauty and appeal to the buyers. Moreover, you can find prints that fit any budget and are appropriate for all kinds of occasions. However, you need to understand a few basic things about signed limited edition prints before you begin searching for them.
Original master pieces are generally depicted using articulate precision on some kinds of materials like paper. The art prints are not reproductions of the original created by another artist. The prints are commonly referred to as impressions and can be created using different techniques.
Some of the most commonly used methods include ink jet printing, screen printing, digital printing, and lithography. Impressions can be made of any kinds of artwork, which includes paintings, drawings, and photographs. The type of method used to create the impression defines the types of art prints created.
The quality of the prints and its similarity to the originals depends on the technique used, materials used, and the equipments used. Some kinds of methods are more suitable to specific works while being inappropriate for others. Digital printing is used to create impressions of digital pictures while giclee printing is more suitable for creating impressions of paintings.
When you are looking for these prints, you need to pay close attention to the material and technique used to create the impressions. Commonly, paper is used to create impressions and the quality of the paper differs in texture and appearance. The best type of paper used to create long lasting impressions is archival paper, which is free from all acids.
You need to consider the taste and preferences of the person for whom you are choosing the gifts. The market provides a wide variety of choices that ensures you can find something appropriate for the receiver. You can choose a famous wildlife painting or contemporary works, or a print of the person's favorite rock band.
When looking to buy such prints, you must always search for a well known, reliable, and reputed dealer. You can ask your friends or family members to recommend dealers or browse the Internet to read the reviews provided by other users. The chosen dealer should have been in the business for some years and should operate ethically.
Before making your purchase, you should check the quality of the print and its condition. The print must last for several years, which makes it necessary that the material used is of a superior quality. The paper should be at least sixty seven lb, with acidity between pH7 and pH10 and light fast ranking of six or more. Finally, you must protect the investment by using frames to preserve the art pieces using acid free matting available in different textures and colors.
Awards.

1971 Honorary Degree in Fine Arts by the Pratt Institute in New York.
1973 The Order of the Golden Ark by HRH The Prince of The Netherlands for his services to conservation.
1979 Member of Honour of the World Wide Fund for Nature
The Order of the British Empire for his services to wildlife conservation. O.B.E.
1986 Fellow of the Royal Society of Arts.
1988 President Kenneth Kaunda of Zambia awarded him with the Order of Distinguished Service.
was made a Fellow of the Royal Geographical Society
Honorary Doctorate of Science of Hatfield Polytechnic (now the University of Hertfordshire) in 1990.
1996 Officer (Brother) of the Order of St. John.
2004 Granted the Freedom of the City of London.
2008 Awarded a C.B.E. for services to charity and wildlife
If you would like to visit the studio in Nottinghamshire, (Saturdays and Sundays are fine too) Please call 01623 799 309
We have a collection of over 500 signed limited edition prints and original paintings for sale.
We specialize in
signed prints
and original paintings and drawings by the world acclaimed artist L.S. Lowry
click
.
The demand for his work has now reached record highs, and due to the relatively few signed limited edition prints available,
they are proving to be an excellent investment, much greater than any current banking investments.
A watercolourist, whose work needs little introduction in the world of art is Sir William Russell Flint
read
here.
We stock hundreds of this artist's signed limited edition prints and always a fine selection of his original watercolour paintings.
Throughout his life Sir William Russell Flint has spent many years painting beautiful watercolour images of scenes in France,
in particular Dordogne and the Perigord, where this beautiful holiday house is to let click
here
and offers complete tranquility and relaxation.
There are also a number of signed limited edition prints of paintings from Britanny, The Loire, Ardeche, Provence.
We have for sale several original paintings from the south west France, near to the beautiful towns of Brantome and Perigueux and also Languedoc
His work has now become regarded as some of the finest watercolour paintings in the world.