---
At Readiness, Summer of 1940
signed limited edition print
David Shepherd
CBE OBE FRSA FGRA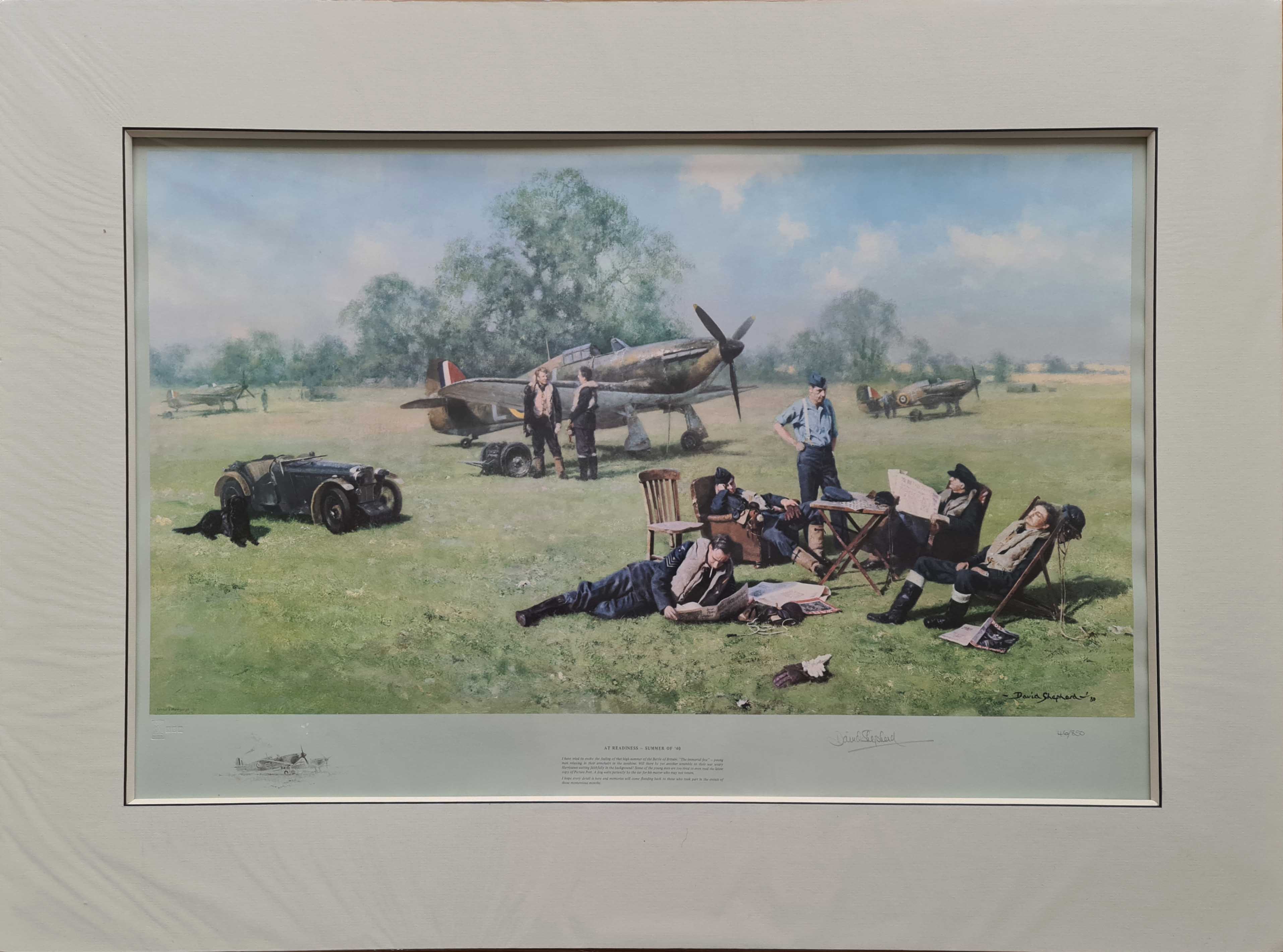 "At Readiness-Summer of '40"
Signed Limited Edition
Date of publication April 1981
Image Size:- 32" x 17.5"
The Spitfire is the most famous plane of World War Two.
Its groundbreaking design and superior specifications gave the British a decisive advantage fighting the Luftwaffe in the Battle of Britain.
But early models were often cruelly exposed in head-to-head duels with the enemy.
It was only after multiple improvements that the Spitfire's winning combination of speed, manoeuvrability and firepower turned it into a formidable killing machine and a much loved British icon.
In 1940 Hitler sent 2,600 Luftwaffe fighters and bombers to destroy the Royal Air Force.
At the start of the battle the RAF only had 640 fighters, Hurricanes and Spitfires,
and German commander Herman Goering confidently predicted victory would only take a few days.
Britain stepped up the production of fighter planes, building them faster than Germany.
The Hurricanes, with their sturdy frames, took on the bombers. The Mark I Spitfires, with their superior speed and agility, were sent up to shoot down German fighters.
By the end of the battle the better organised RAF had defeated the Luftwaffe and downed 1,887 German planes.
The RAF lost 1,023 planes.
The tide of the war started to turn. Britain was now a launch pad for future attacks on Germany.
© S & W © David Shepherd Back to
David Shepherd prints
for sale.