Best spots on the hill
David Shepherd
CBE OBE FRSA FGRA
---
---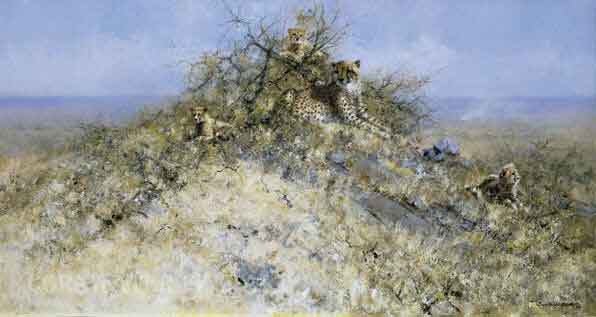 Best spots on the hill
Signed, limited edition of 950
Published
Image Size 15" x 30"
Complete with Limited edition Sketch.
Special price:- £ 195 including vat! Whilst stocks last.
We can also supply the work complete with french bound mount... (acid free, conservation quality)
Or framed complete with a range of frames to choose from in the studio, and a choice of
museum glass.
All well below retail gallery framing prices.
*Please note this is the copyrighted signed, limited edition, personally signed by David Shepherd; it is not a book illustration.*
The cheetah is a large cat native to Africa and central Iran.
It is the fastest land animal, estimated to be capable of running at 80 to 128 km/h with the fastest reliably recorded speeds being 93 and 98 km/h,
and as such has several adaptations for speed, including a light build, long thin legs and a long tail.
Speed: 80 – 130 km/h
Conservation status: Vulnerable
Mass: 21 – 72 kg (Adult)
Height: 67 – 94 cm
Scientific name: Acinonyx jubatus
Trophic level: Carnivorous
The only predator that can out-run an Ostrich is the Cheetah (who can run at speeds up to 120 kilometres an hour) but the Cheetah will never attack an ostrich
because although they have the speed to catch them they do not have strength to bring such a big animal as an adult ostrich down to the ground.
(p & p charged at cost)
L.S. Lowry.
Sir William Russell Flint read here.
Back to David Shepherd prints for sale.