Cricket; Test match special
David Shepherd
CBE OBE FRSA FGRA
---
---
One of England's most famous artists, a 90-year-old former Lancaster bomber pilot and a member of the Bee Gees... it could only be another interval on Test Match Special!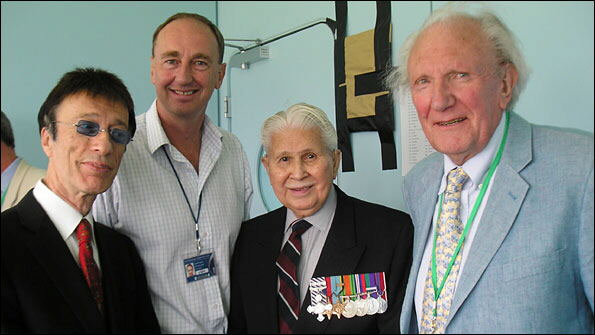 Robin Gibb, Jonathan Agnew, Group Captain Bill Farquharson DFC and David Shepherd
The unusual trio joined us during the break at the second Natwest one-day international at Lord's on Sunday to discuss a special commemoration of Bomber Command which is taking place at the ground. During the Second World War, Lord's was used as an "Air Crew Receiving Centre" , where young aircrew volunteers were received prior to being posted for training to the likes of Canada, the USA or South Africa before joining RAF squadons in the Bomber Offensive against Germany.
The Lord's museum is running a special exhibition to mark the 65th anniversary of the receiving centre being closed and handed back to the MCC, and on Sunday we were entertained by the RAF Central band and a fly-past of a Lancaster bomber.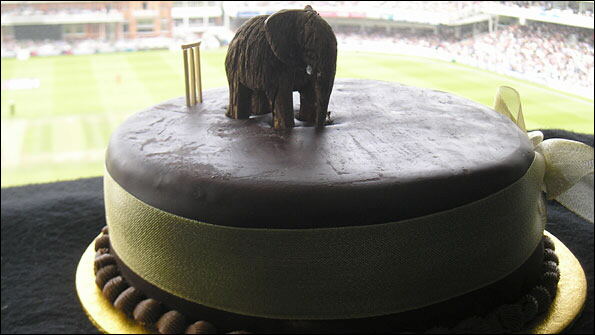 David Shepherd brought TMS an elephant cake




Also in the crowd at the game were 20 veterans who were invited as special guests of the MCC including pilots, navigators, wireless operators, flight engineers and air gunners, several of whom were decorated for gallantry in air operations.

One of those veterans was Group Captain Bill Farquharson DFC who joined us in the commentary box to tell the amazing story of life as a bomber pilot. More than 55,000 people died in Bomber Command, three out of every five who joined, and Farquharson admitted that he was extremly frightened all of the time.

He told us that just before one mission a colleague asked him "'If you don't come back, can I have your hat?' You see, I had just got myself a new service hat. Well in fact I was reported missing and when I got back my hat was gone. However, it was returned to me in the end." Farquharson also told us about a very lucky escape. He said: "I went on one mission and we were hit by flak. I knew we had been hit but I hoped not too badly. When I got back and pulled my parachute from under me I noticed a large lump of flak stuck inside it. If it had gone any further, it would have been the end of my matrimonial prospects!"

Joining Group Captain Farquharson in the TMS box was wildlife and aviation artist David Shepherd who even brought us a chocolate cake with his one of his famous elephants on the top. He has painted a special picture which is being raffled off to try and raise money for a proposed memorial to those who died in Bomber Command which he hopes will be erected in a central London park.

Also working to raise funds is Robin Gibb from the legendary pop group Bee Gees who is president of the Heritage Foundation. Gibb told us that he had flown in especially from America to be at the event at Lord's.

As well as speaking passionately about the campaign, Gibb also told Jonathan Agnew some exclusive news about the Bee Gees. He told Aggers that six years after the death of his brother Maurice, the Bee Gees are going to re-form and play some live concerts again. "I've just been with my brother Barry in Miami and we have decided we are going to perform again". Gibb admitted that it had been a tough few years but "we have just got through the breakwater of emotions and now we can go forward".

All in all, it was quite a surreal day in the Test Match Special commentary box starting with the expected mickey-taking for Jonathan Agnew following his "Dieselgate" episode on Friday. In case you hadn't heard, Aggers managed to put a full tank of petrol into his diesel car on Friday and only discovered the error five miles later when his car broke down.

On Saturday evening I texted Angus Fraser to ask if he could join Aggers at the start of the match on Sunday and I mentioned that he should feel free to rib him about his fuel error. Gus replied a few minutes later "It will be my pleasure". So it was no surprise when Angus greeted Aggers with "Nice of you to join us for a change. I'm glad the weather is good so we won't need any of those diesel-powered hover covers."

Also part of our summarising team on Sunday was Phil Tufnell, fresh from rehearsals for Strictly Come Dancing. Well I say fresh - frankly Tuffers could hardly walk after his first full day in the dance studio. One listener e-mailed in to ask whether his dancing prowess was more like his batting or his bowling. Tuffers answered "Probably more like my fielding. Lots of mistakes with the very occasional flash of brilliance." We will have to wait until 18 September to find out!

Regular listeners to Tufnell on TMS this summer may have been surprised to hear Phil's eloquent descriptions of batting technique which perhaps were lacking a little when he was a player. Well, after one session on Sunday where he was discussing the best method to play the white ball, fellow TMS summariser and his former captain at Middlesex Justin Langer came on and said: "That's the biggest load of nonsense I've ever heard. He was probably the worst batsman I have ever seen.

"And he was probably the toughest human being I have ever had to captain - the best to have a drink with, but the worst to captain. I remember here at Lord's a few years ago, Tufnell just left the field at one point and then returned a few minutes later smelling of cigarette smoke. He said 'sorry skipper - I just had to have a fag'... he was a nightmare."

But Langer did fulfil a lifetime ambition during the Lord's ODI. When he was paired on air with Henry Blofeld, Justin exclaimed: "I have to say I am absolutely pumped. I've been listening to you for all these years and now I am sitting alongside you at my favourite cricket ground in the world in a commentary box full of chocolate cake. Life can't get any better than that."

One website of great interest, to collectors of watercolour paintings, will be that of the internationally renowned artist Sir William Russell Flint,
his career as one of the world's finest watercolourists has made his work of tremendous investment potential,
and the wonderful paintings of his model Cecilia often depicted in the french countryside, is simply incredible.



We will endeavour to better any quote and give you the finest possible service
99.9% of signed, limited editions shown below are in stock, although we usually have only one print of each title
For prices and information please call us 01623 799 309 or email administrator@davidshepherd.com
30 years experience and a collection of hundreds of David Shepherd signed, limited edition prints
Studio open, 7 days a week!
Viewing by appointment
administrator@davidshepherd.com
We specialize in
signed prints
and original paintings and drawings by the world acclaimed artist L.S.Lowry.View
here
The demand for his work has now reached record highs, and due to the relatively few signed limited edition prints available,
they are proving to be an excellent investment, much greater than any current banking investments.
We stock hundreds of this artist's signed limited edition prints and always a fine selection of his original watercolour paintings.
view
Throughout his life Sir William Russell Flint has spent many years painting beautiful watercolour images of scenes in France,
in particular Dordogne and the Perigord, where this beautiful holiday house is to let
click
here
and offers complete tranquility and relaxation.
There are also a number of signed limited edition prints of paintings from Britanny, The Loire, Ardeche, Provence.
We have for sale several original paintings from the south west France, near to the beautiful towns of Brantome and Perigueux and also Languedoc
His work has now become regarded as some of the finest watercolour paintings in the world.
Back to
David Shepherd
prints for sale.