Dhala
David Shepherd
CBE OBE FRSA FGRA
---
---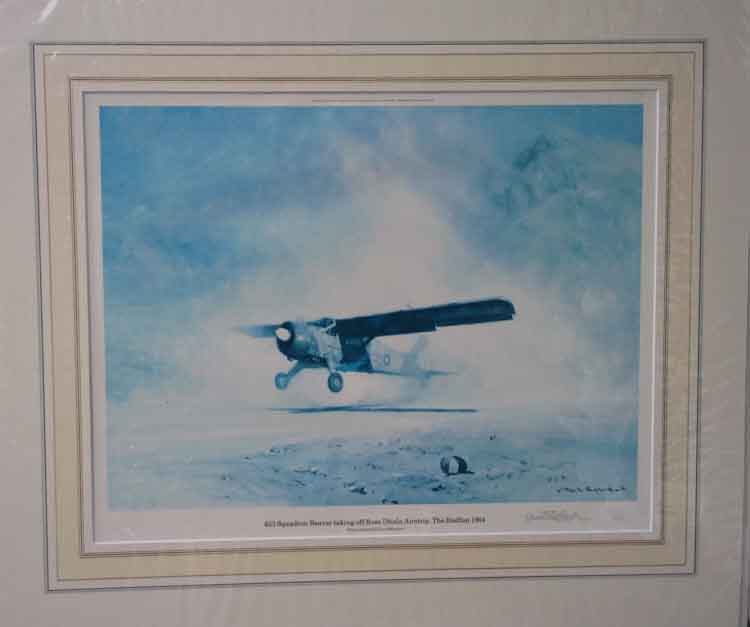 653 Squadron Beaver taking off from Dhala Airstrip, The Radfan 1964
Signed Limited Edition print of 850
Complete with wash/line mount
Image Size 19.5" x 14.5"

The Battle of Dhala took place in March 1965 during the Aden Emergency.
Culvert construction on the Dhala Road by Territorial Army Sappers of 131 Parachute Engineer Regiment
On the night of 12 April, 300 Parachute Squadron of 131 Parachute Engineer Regiment (Territorial Army) was attacked by guerrillas
whilst working with 24 Field Squadron on the construction of the Dhala Road at Al-Milah near the Yemen frontier.
Squadron Sergeant Major (SSM) John Lonergan of 300 Squadron and Sergeant Atfield, the pay sergeant of 24 Field Squadron,
were both killed during the action and are buried at the Ma-Allah Cemetery, now within the Republic of Yemen.
Major Clive Samuel, the Regimental Medical Officer, was awarded the MBE for gallantry after he risked his life to attend to those wounded and rescued two badly wounded men caught out in the open.

Dhale or Dhala, also spelled Dali and Dhalea and sometimes prefixed with Al or Ad, is the capital town of Dhale Governorate in south-western Yemen. It is located at around 13°41'48?N 44°43'51?E, in the elevation of around 1500 metres.
30 years experience and a collection of hundreds of David Shepherd, limited editions!
Studio open, 7 days a week!
Viewing by appointment
Back to David Shepherd prints for sale