Dusty Evening (silkscreen)
David Shepherd
CBE OBE FRSA FGRA
---
---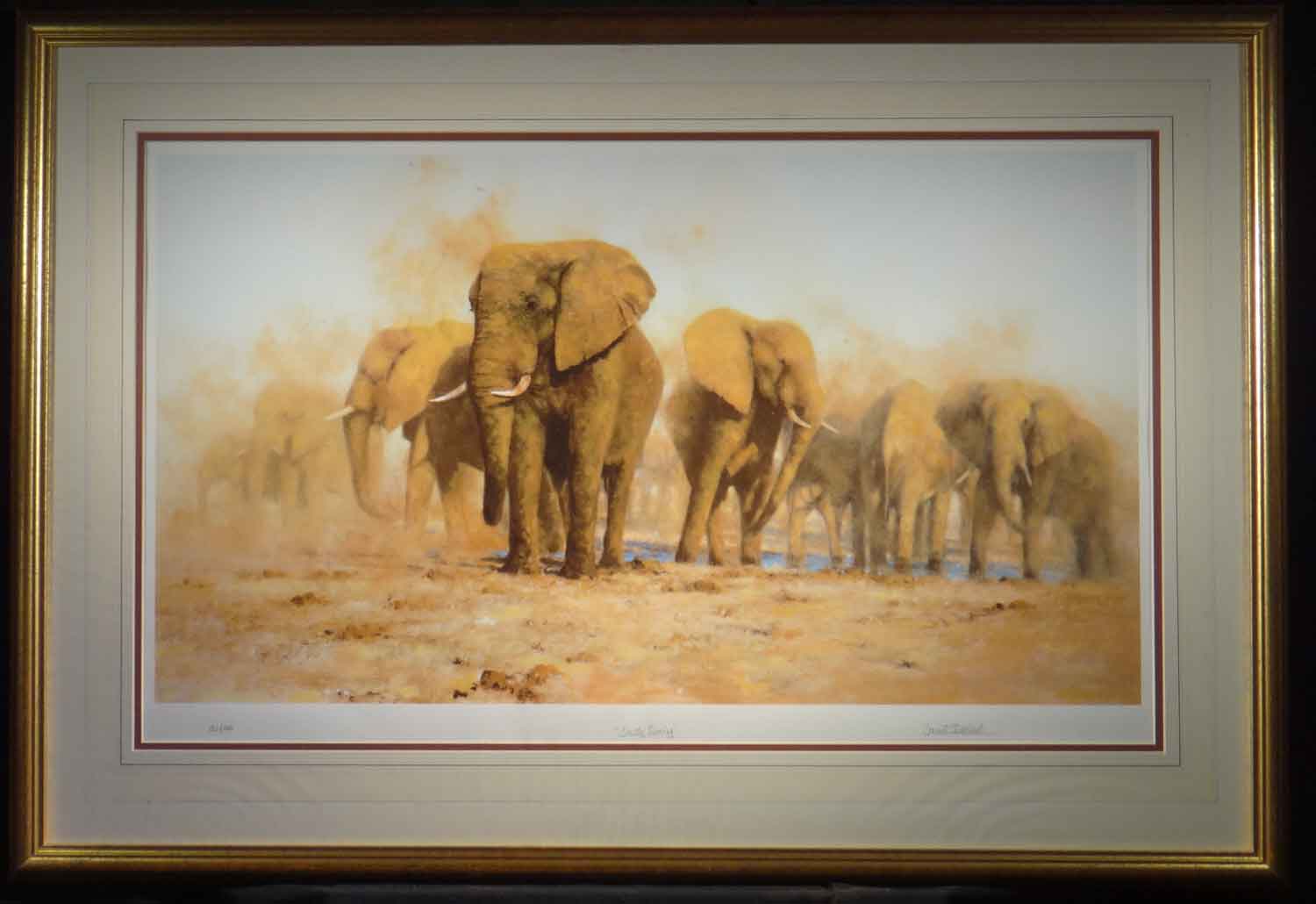 'Dusty Evening'
Signed Limited Edition Silkscreen of 200
Date of publication April 2001
Image Size 16.6" x 30"

I am told that elephants like nothing better than a good dust bath.
Elephants also take dust baths and mud baths to cool down their bodies.
To cool down even more, elephants will spray mud or water behind their ears.
This allows the circulating blood to cool down faster as an elephant can pump all it's blood through it's ears every 20 minutes.
Elephant skin has no sweat glands.
Chinchillas take dust baths as a way of self-cleaning their coats.
This not only cleans their coats, but it protects them by eliminating extra oils and moisture.
They will flop, flip, and roll around in the dust to cover their coat and remove any unwanted dirt or oils.
A captive herd of Asian elephants exhibited dusting behaviour when the maximum daily temperature exceeded approximately 13 degrees C, and dusting frequency increased directly with the environmental temperature.
Individual animals showed variation in dusting frequency but this was not related to body mass, suggesting that the function of dusting is not primarily thermoregulatory.
Synchronisation in the timing of dusting behaviour within the herd suggests that it may have a function in the maintenance of social cohesion.
The function of dusting behaviour could not be determined from the data presented,
but it may be involved in skin care, protection from insects or other parasites, temperature control, protection from radiation or some combination of these.

Price; please call:- 01623 799 309

administrator@davidshepherd.com
Back to David Shepherd prints for sale.