Evening of the elephant
David Shepherd
CBE OBE FRSA FGRA
---
---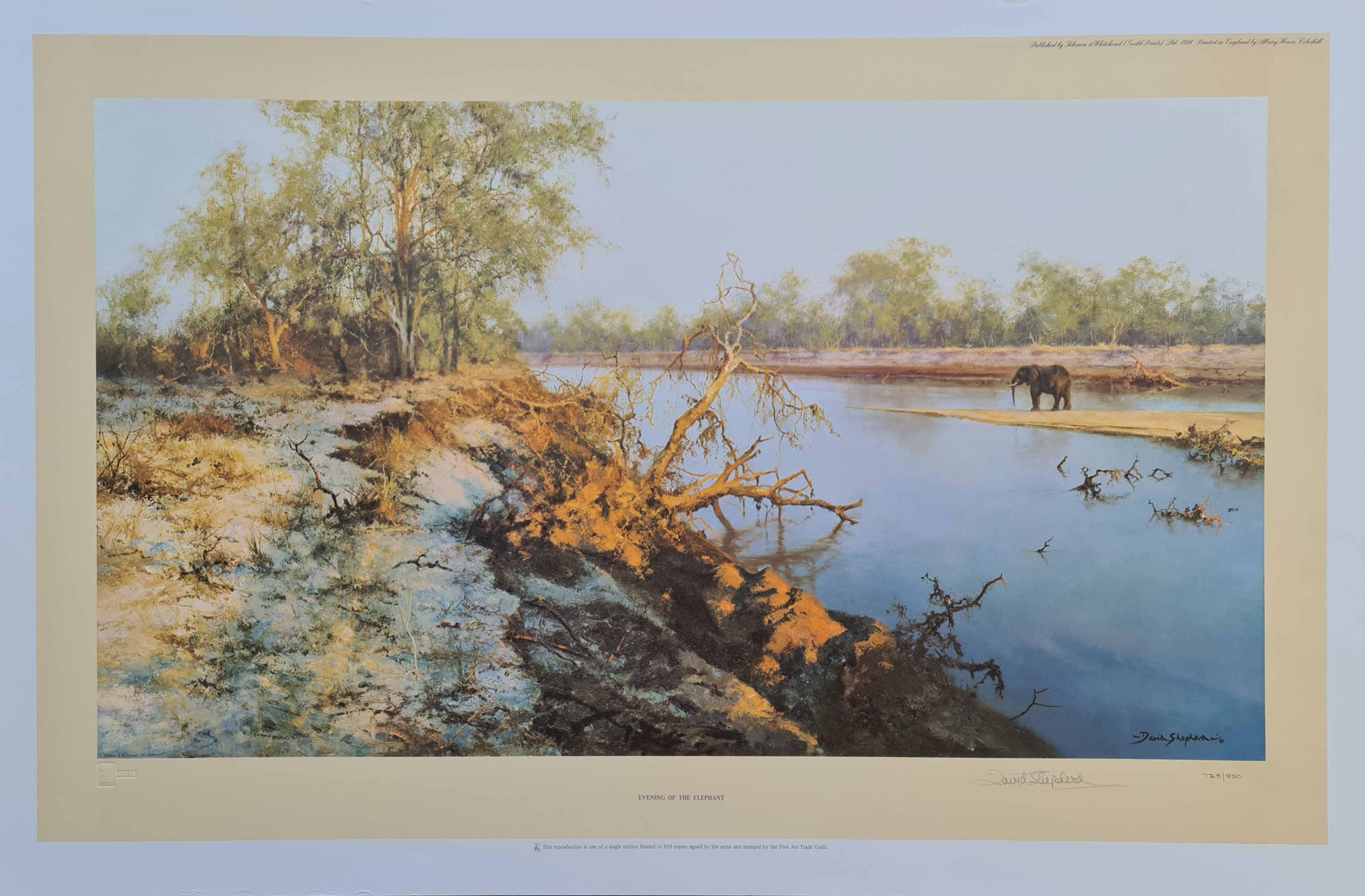 'Evening of the elephant'
Signed Limited Edition
mint condition
Date of publication 1981
Image Size 30" x 15"
Biography of wildlife artist, David Shepherd, CBE, FRSA, FRGS, OBE.
Known as possibly the world's finest wildlife artist. David Shepherd has worked for many years as an artist across the world, His role as a conservationist is passionately upheld, and he has always felt that he had a obligation to help conserve the world and the animals that we live amongst.
During his lifetime, David Shepherd has painted and drawn hundreds, if not thousands of images, and loves to talk to people of the many experiences he has had whilst travelling and painting throughout the world, often speaking at charity dinners and other prestigeous social events. His personality is beautifully suited to this cause, as his easy going and straight forward approach comes across well to express the love of art and his feelings for the ever decreasing wildlife in the world. As a young man, luck often deals its hand, and this was no exception, he wasn't particularly keen about other college activities.
David Shepherd is often heard explaining that during his ealier years his life was anything but successful, his main ambition was to be an African game warden. When his studying was done, David Shepherd left England with the hope of a life within the national parks of Africa. Sadly, these hopes were to fall at the first hurdle, and he was informed by the head game warden that there were no vacancies, his dreams were ruined. Throughout school days, his foremost curiosity in art had been as a substitute for the compulsary games of rugby which left him with a fear of dread. It was at this time David Shepherd's father helped him, by encouraging him to seek some formal training for his artistic leanings.
David Shepherd was interviewed at Slade school of fine art in London with his bird picture, and was promptly told that he had little artistic ability and that any lessons would be of little use. The bus driver idea was staring to look like the other option, then by shere chance, he met the highly skilled marine artist, Robin Goodwin. Unfortunately, Robin did not take on apprentices, but somehow David Shepherd managed to become an exception to the rule, and he agreed to see some of David's work.
Within twenty four hours, he arrived at Robin Goodwin's home in Chelsea with his 'bird' painting, and to his absolute delight Robin Goodwin agreed to teach him. It is due to the teachings of this artist that David was able to show his true talent, and has at all times a feeling of deep gratitude for the help he was given by from Robin Goodwin. One of David's original paintings 'St. Michael's Mount, Cornwall was painted during his apprenticeship with Robin Goodwin.
David Shepherd's published work
In the early 1960s the first print was published of David's work 'Wise Old Elephant'. This was a bold move at the time, as until then wildlife prints had been relatively sparce. Disributed by Boots, his first print, which was purely decorative and sold as a poster print, sold more prints than any other print worldwide. Providing the recognition necessary for a successful career, David Shepherd's name soon became synonymous with wildlife art. Within several years a number of his paintings had been published as poster prints and sold 'en masse' throughout the world.
Collectible prints were published as limited editions which were signed and numbered by David Shepherd.
Due to the strictly limited number of prints issued of any particular title and the demand for his work; these limited edition prints became highly collectable. Not only would a signed limited edition sell out completely on the day of publication, but there would often be a waiting list as long as the entire edition should any come back to the publishers as available.
In the case of 'Burning Bright' the publishers raised the edition to 2,000 copies which is a large limited edition by any standards. The entire edition sold out within hours, and there were another 2,500 orders left unfulfilled.
Limited editions signed by the David Shepherd became an excellent investment; on publication demand always far outreached supply, so a strong secondary market was created which saw some titles escalate enormously in price.
For collectors wishing to spend sevral hundred pounds, as opposed to tens of thousands for an original painting, with the added bonus that the value of the limited edition print would increase, this became an excellent option, and as there were no more signed limited edition prints produced of a particular painting, these prints increased greatly in value as the demand for David's work increased. The publishers produced a secondary price list of work that they had sold throughout the years, and the prices that limited edition prints had been sold for on the secondary market. The list is very impressive, perhaps more useful as an insurance guide than a strict selling price, but nevertheless very sucessful.
Books
Many books have been published and are still being published by David and others on the artist and his work.
Here are a few of the first that have long since been sold out, and available only on the secondary market.
'The Man Who Loves Giants' David Shepherd's first autobiographical book was published in 1976 which very quickly became a best seller. This was revised and updated in 1989 as subsequent editions were published.
'A Brush With Steam' A second book illustrating his love for steam trains was published in 1984
'The Man and his Paintings' in 1985 was the first comprehensive book showing a complete spectrum of David's work.
'An Artist in Conservation' was released in 1992 which illustrated some of Mr Shepherd's finest paintings.
'My Painting Life' published in 1995
'Only One World' 1995
'Painting with David Shepherd, Unique Studio Secrets Revealed' was published in 2004
TV Documentaries
'The Man Who Loved Giants' was the title for this film of David Shepherd's life story produced in 1972 by the late James Stewart.
The documentary was shown worldwide.
'TheLast TraintoMulobezi' tells an exciting story of the survival of an ancient locomotive and railway coach from the Zambezi
Sawmills Railway and their 12,000 mile journey back to England.
The train was given as a gift by Dr Kenneth Kaunda, the President of Zambia, and after raising enough money
through the sale of paintings in USA. A helicopter was bought and given to Zambia to help prevent poaching.
'InSearch ofWildlife' A series of six half hour programmes produced by Thames TV
Illustrating the plight of endangered mammals throughout the world.
These were later broadcast in the USA.
'Nature Watch' with Julian Pettifer began in 1990 and David Shepherd produced the first programme in the series.
'This is Your Life' David Shepherd has been the subject of the programme.
Awards.

1971 HonoraryDegree in FineArts bythe PrattInstitute in NewYork.
1973 TheOrder ofthe GoldenArk byHRH ThePrince ofTheNetherlands for his services to conservation.
1979 MemberofHonour of the World Wide Fund for Nature
1979 The Order of the British Empire for his services to wildlife conservation. O.B.E.
1986 Fellow of the Royal Society of Arts.
1988 President Kenneth Kaunda of Zambia awarded him with the OrderofDistinguished Service.
1988 Made a Fellow of the Royal Geographical Society
1988 Honorary Doctorate of Science of Hatfield Polytechnic (now the University of Hertfordshire) in 1990.
1996 Officer (Brother) of the Order of St. John.
2004 Granted the Freedom of the City of London.
2008 Awarded a C.B.E. for services to charity and wildlife
David Shepherd Prints
Most of the published works of David Shepherd are photo lithographs; when printed (by a photographic process), these prints are absolutely identical
and there is no added value in any particular number; This misconception arises from the 'old' days when original etchings and lithographs were produced
using a metal or stone plate, where the ink is spread onto the etched plate and a print produced by pressing the paper or canvas against it.
Even with silkscreen prints, the technology is sufficiently advanced that it would be virtually impossible to tell a difference between the first
and the last number of the edition.
In 1992, David began a series called the 'Gold Editions' which were high quality produced silkscreen prints, giving much deeper and richer colours
than a usual photo lithograph print. Published on high quality water colour paper and a low edition run of between 200 to 495 prints.
One silkscreen was published each year from 1992 begining with 'Cheetah'
Africa 1993
Amboseli 1994
The Last Refuge 1995
Mountain Lion 1996
Leopards 1997
The Bandipur Tiger 1998
Storm over Africa 1999
Indian Summer 2000
Portrait of a Tiger (for the millenium)2000
The White Tiger of Rewa 2001
In the cool of Evening 2002
The silkscreen prints have always been in great demand, and are regarded as between signed limited edition prints and an original paintings.
We specialize in
signed prints
and original paintings and drawings by the world acclaimed artist
L.S.Lowry
.
The demand for his work has now reached record highs, and due to the relatively few signed limited edition prints available,
they are proving to be an excellent investment, much greater than any current banking investments.
A watercolourist, whose work needs little introduction in the world of art is Sir William Russell
Flint
.
We stock hundreds of this artist's signed limited edition prints and always a fine selection of his original watercolour paintings.
Throughout his life Sir William Russell Flint has spent many years painting beautiful watercolour images of scenes in France,
in particular Dordogne and the Perigord, where this beautiful holiday house is to let click
here
and offers complete tranquility and relaxation.
There are also a number of signed limited edition prints of paintings from Britanny, The Loire, Ardeche, Provence.
We have for sale several original paintings from the south west France, near to the beautiful towns of Brantome and Perigueux and also Languedoc
His work has now become regarded as some of the finest watercolour paintings in the world.
© S & W signed, limited edition print publishers ©
David Shepherd prints
If you would like to visit the studio in Nottinghamshire, (Saturdays and Sundays are fine too) Please call 01623 799 309 We have a collection of over 500 David Shepherd signed limited edition prints and original paintings for sale.
30 years experience and a collection of hundreds of David Shepherd, limited editions!
Studio open, 7 days a week!
Viewing by appointment
EMAIL:-
administrator@davidshepherd.com
Back to
David Shepherd prints
for sale.