In the Masai Mara
David Shepherd
CBE OBE FRSA FGRA
---
---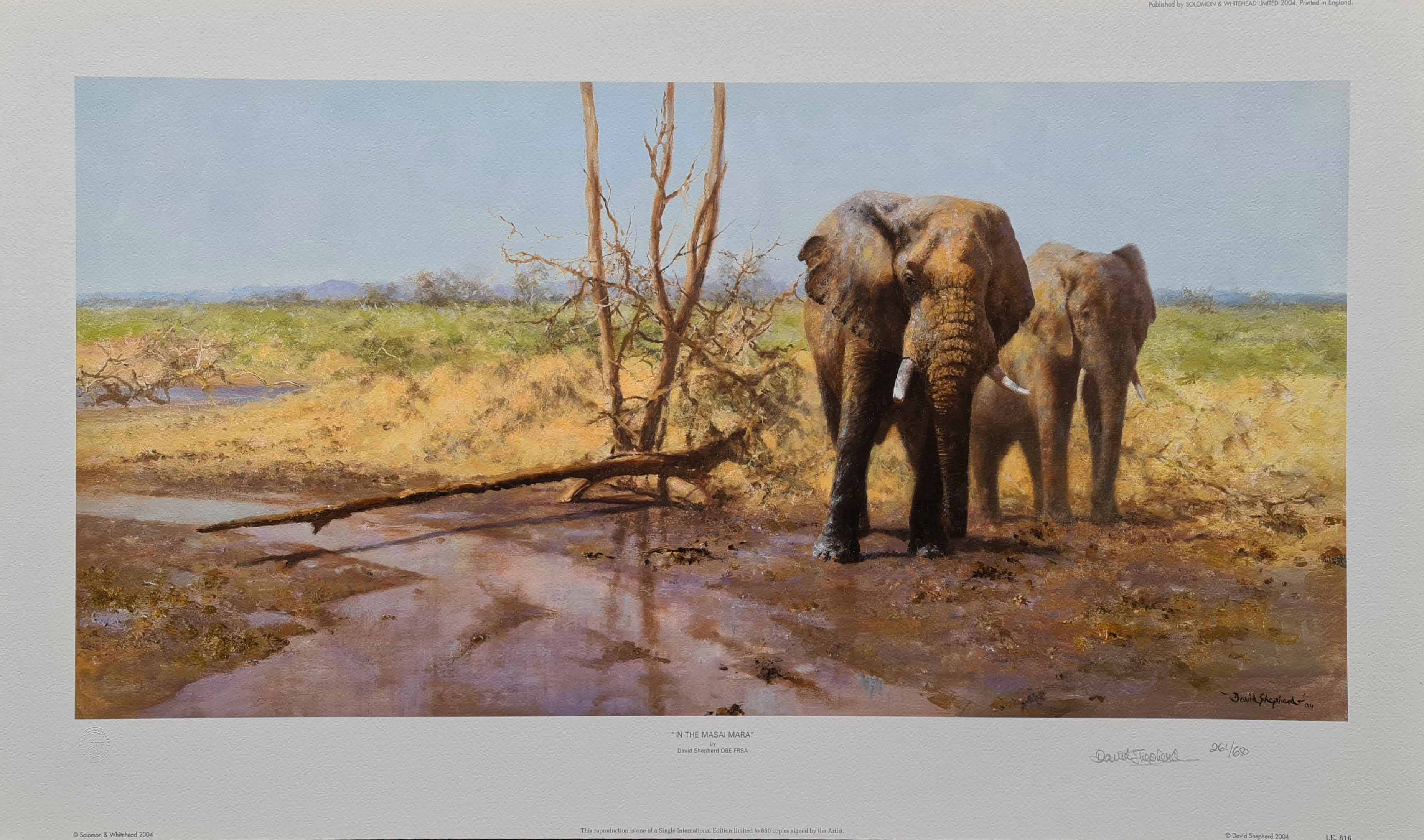 In the Masai Mara
Limited Edition of 650
Date of publication September 2004
Image Size 22" x 18.5"
Special price:- £ 165 including vat! Whilst stocks last.
Maasai Mara National Reserve is an area of preserved savannah wilderness in southwestern Kenya, along the Tanzanian border.
Its animals include lions, cheetahs, elephants, zebras and hippos. Wildebeest traverse its plains during their annual migration.
The landscape has grassy plains and rolling hills, and is crossed by the Mara and Talek rivers. The area nearby is dotted with villages (enkangs) of Maasai people.
Kenya's Maasai Mara Game Reserve has been named the 7th Wonder of the World in a poll of experts conducted by ABC Television's Good Morning America.
When it was originally established in 1961 as a wildlife sanctuary the Mara covered only 520 km2 (200 sq mi) of the current area, including the Mara Triangle.
The area was extended to the east in 1961 to cover 1,821 km2 (703 sq mi) and converted to a game reserve. The Narok County Council took over management of the reserve at this time.
Part of the reserve was given National Reserve status in 1974, and the remaining area of 159 km2 (61 sq mi) was returned to local communities.
An additional 162 km2 (63 sq mi) were removed from the reserve in 1976, and the park was reduced to 1,510 km2 (580 sq mi) in 1984.
In 1994, the TransMara County Council (TMCC) was formed in the western part of the reserve, and control was divided between the new council and the existing Narok County Council.

In May 2001, the not-for-profit Mara Conservancy took over management of the Mara Triangle
administrator@davidshepherd.com
Back to
David Shepherd
prints for sale.