In the Thick Stuff
David Shepherd
CBE OBE FRSA FGRA
---
---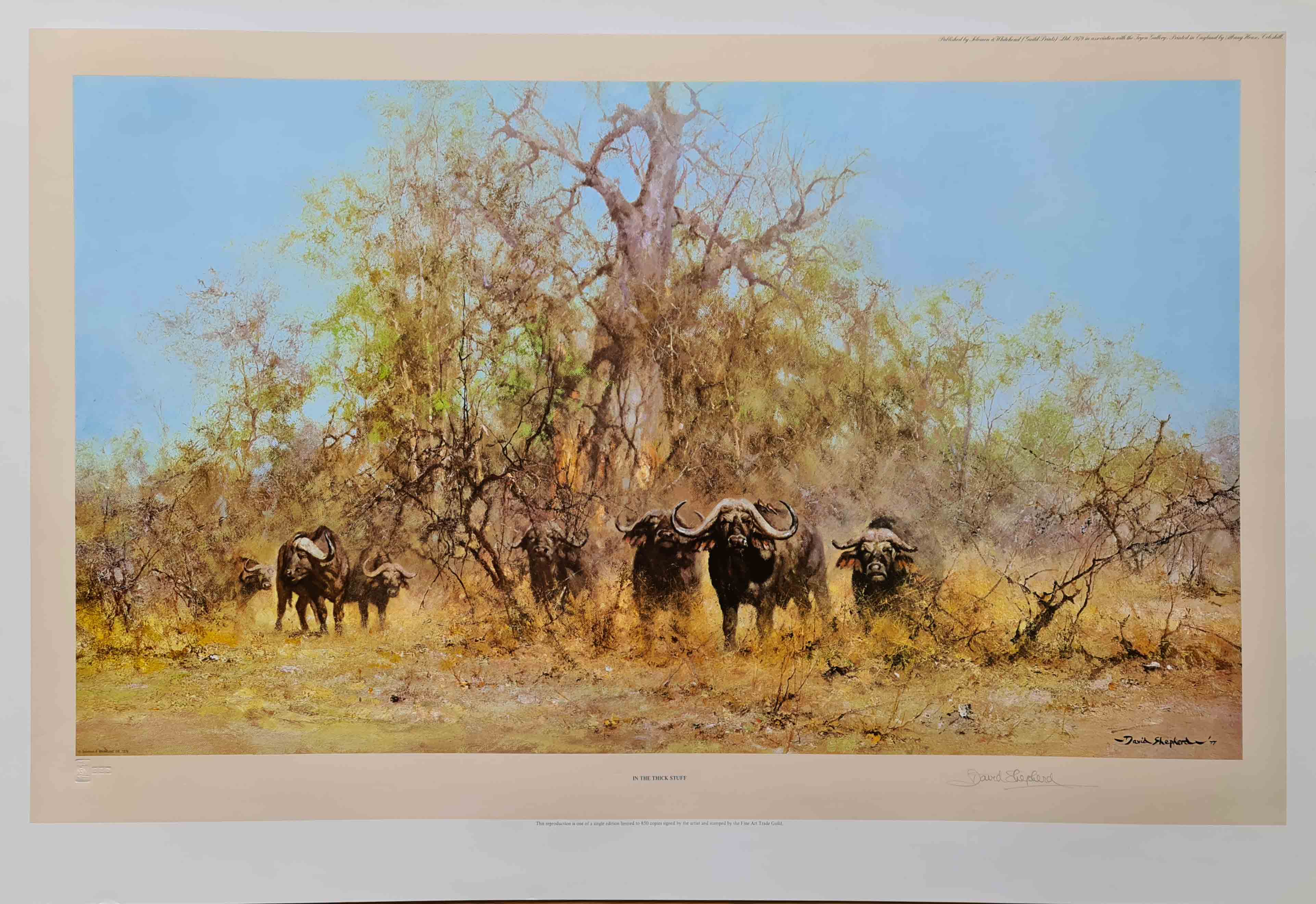 "In the Thick Stuff"
Signed Limited Edition print of 850
Published 1979
Image Size:-18" x 33"
Complete with original framing.
Price; please call:- 01623 799 309
The water buffalo (Bubalus bubalis), also called the Asiatic buffalo, domestic water buffalo or Asian water buffalo,
is a large bovid originating in the Indian subcontinent and Southeast Asia.
Today, it is also found in Europe, Australia, North America, South America and some African countries.
The wild water buffalo (Bubalus arnee) most likely represents the ancestor of the domestic water buffalo.
Results of a phylogenetic study indicate that the river-type water buffalo probably originated in western India and was domesticated about 6,300 years ago,
whereas the swamp-type originated independently from Mainland Southeast Asia and was domesticated about 3,000 to 7,000 years ago.
The river buffalo dispersed west as far as Egypt, the Balkans, and Italy; while swamp buffalo dispersed to the rest of Southeast Asia and up to the Yangtze River valley
Signed, limited edition, prints and original paintings, drawings for sale.
Specialising in David Shepherd paintings and limited edition prints.
30 years experience and a collection of hundreds of David Shepherd signed, limited edition prints in the UK!
Studio open, 7 days a week!
Viewing by appointment
EMAIL:-
administrator@davidshepherd.com
England 01623 799 309
David Shepherd