Land of the Baobab Trees
David Shepherd
CBE OBE FRSA FGRA
---
---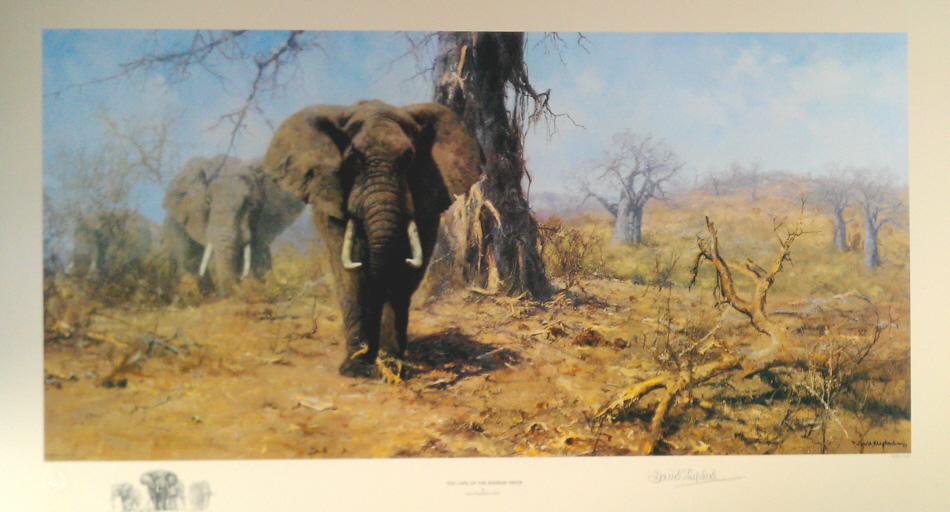 'Land of the Baobab Trees.'
Signed Limited Edition
Date of publication 1989
Image Size 14" x 28.5"
Mint condition,in publisher's original portfolio
Baobabs are long-lived deciduous, small to large trees with broad trunks and compact crowns.
Young trees usually have slender, tapering trunks, often with a swollen base. The trunk is made of fibrous wood arranged in concentric rings.
Tree diameter fluctuates with rainfall so it is thought that water may be stored in the trunk.
Baobab trees have two types of shootsólong, green vegetative ones, and stout, woody reproductive ones.
Adansonia gregorii is generally the smallest of the baobabs, rarely getting to over 10 m tall and often with multiple trunks.
Both A. rubrostipa and A. madagascariensis are small to large trees, from 5 to 20 m (16 to 66 ft) tall.
The other baobabs grow from 25 to 30 m (80 to 100 ft) tall, with 2 to 3 m (7 to 10 ft) diameter trunks.
A. digitata however often have massive single or multiple trunks of up to 10 m (33 ft) diameter.
If you would like to visit the studio in Nottinghamshire, (Saturdays and Sundays are fine too) Please call 01623 799 309
We have a collection of over 500 David Shepherd signed limited edition prints and original paintings for sale.
Signed, limited edition, prints and original paintings, drawings for sale.
30 years experience and a collection of hundreds of David Shepherd signed, limited edition prints
Studio open, 7 days a week!
Viewing by appointment
Lowry
Flint
Back to David Shepherd prints for sale.