Plough Team
David Shepherd
CBE OBE FRSA FGRA
---
---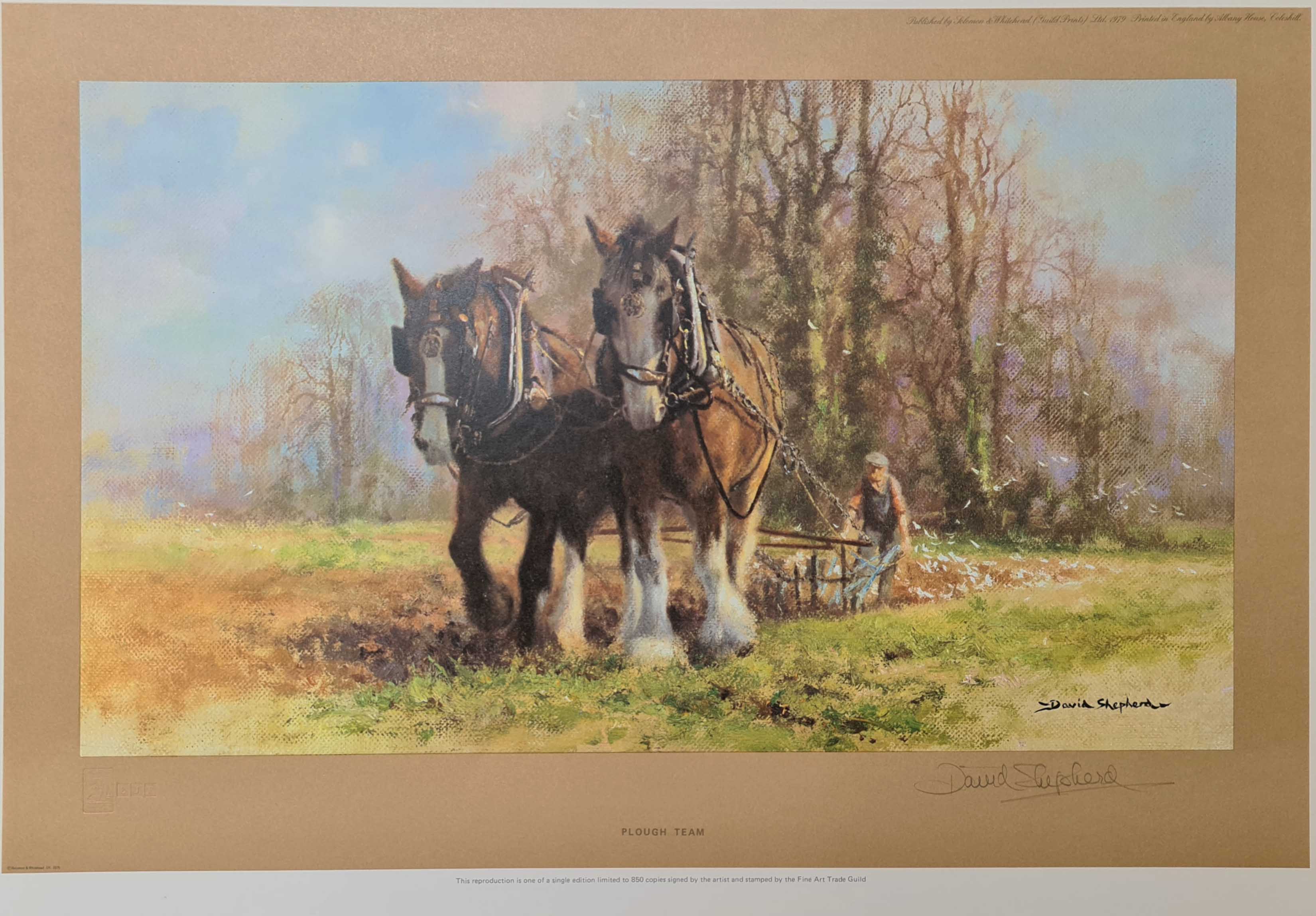 Plough Team.
Signed Limited Edition
Image Size:- 15.5" x 9"
Published 1980
In stock:- price; please call
The carucate was named for the carruca heavy plough that began to appear in England in the 9th century, introduced by the Viking invasions of England.
It was also known as a ploughland or plough (Old English; plogesland, 'plough's land') in the Danelaw and usually, but not always,
excluded the land's suitability for winter vegetables and desirability to remain fallow in crop rotation. The tax levied on each carucate came to be known as 'carucage'.
Though a carucate might nominally be regarded as an area of 120 acres (49 hectares), and can usefully be equated to certain definitions of the hide,
its variation over time and depending on soil and fertility makes its actual figure wildly variable.
The Danelaw carucates were subdivided into eighths: oxgangs or bovates based on the area a single ox could till in a year.

We will endeavour to better any quote and give you the finest possible service
99.9% of signed, limited editions shown below are in stock, although we usually have only one print of each title
For prices and information please call us 01623 799 309 or email administrator@davidshepherd.com

If you would like to visit the studio in Nottinghamshire, (Saturdays and Sundays are fine too) Please call 01623 799 309
We have a collection of over 500 David Shepherd signed limited edition prints and original paintings for sale.
Signed, limited edition, prints and original paintings, drawings for sale.
30 years experience and a collection of hundreds of David Shepherd signed, limited edition prints
Studio open 7 days a week!
Viewing by appointment
L.S.Lowry
Sir William Russell Flint
Back to David Shepherd prints for sale.