Black Rhinoceros (sappi collection)
David Shepherd
CBE OBE FRSA FGRA
---
---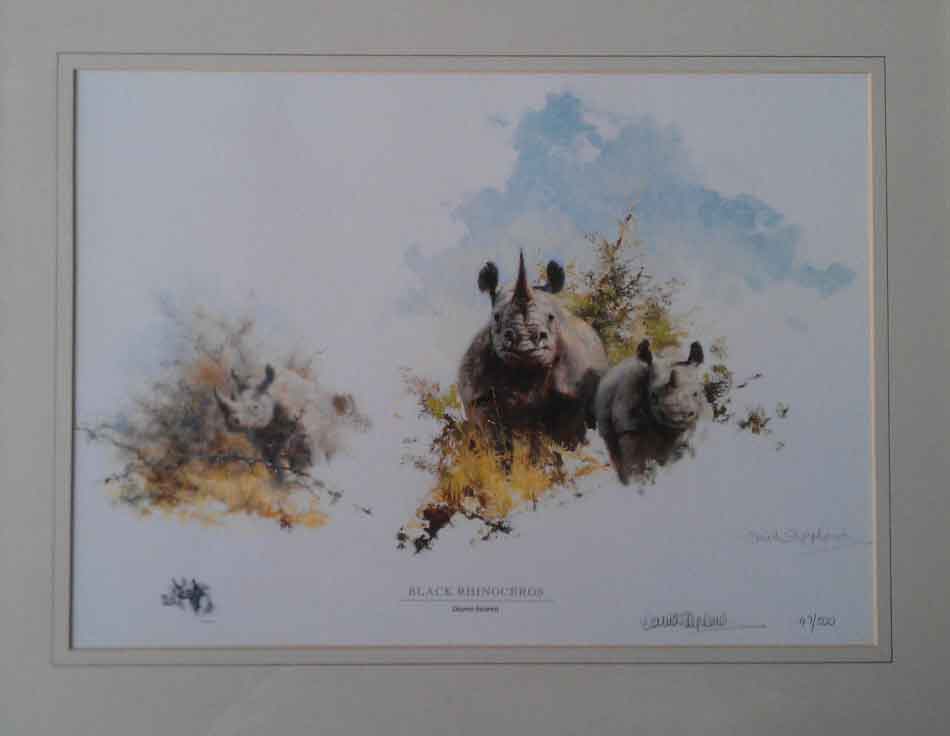 Black Rhinoceros
Signed Limited Edition of 500
Image Size 18" x 13"
One of the SAPPI Collection entitled "David Shepherd in South Africa"
Black rhinos are the smaller of the two African rhino species.
The most notable difference between white and black rhinos are their hooked upper lip.
This distinguishes them from the white rhino, which has a square lip.
The black rhinoceros or hook-lipped rhinoceros is a species of rhinoceros, native to eastern and southern Africa
including Angola, Botswana, Kenya, Malawi, Mozambique, Namibia, South Africa, Eswatini, Tanzania, Zambia, and Zimbabwe.
Although the rhinoceros is referred to as black, its colours vary from brown to grey.
30 years experience and a collection of hundreds of David Shepherd, limited editions!
Studio 7 days a week!
Viewing by appointment
Original paintings sold from various sources
EMAIL:-
administrator@davidshepherd.com
Back to
David Shepherd prints
for sale.