Serengeti Friends (signed print)
David Shepherd
CBE OBE FRSA FGRA
---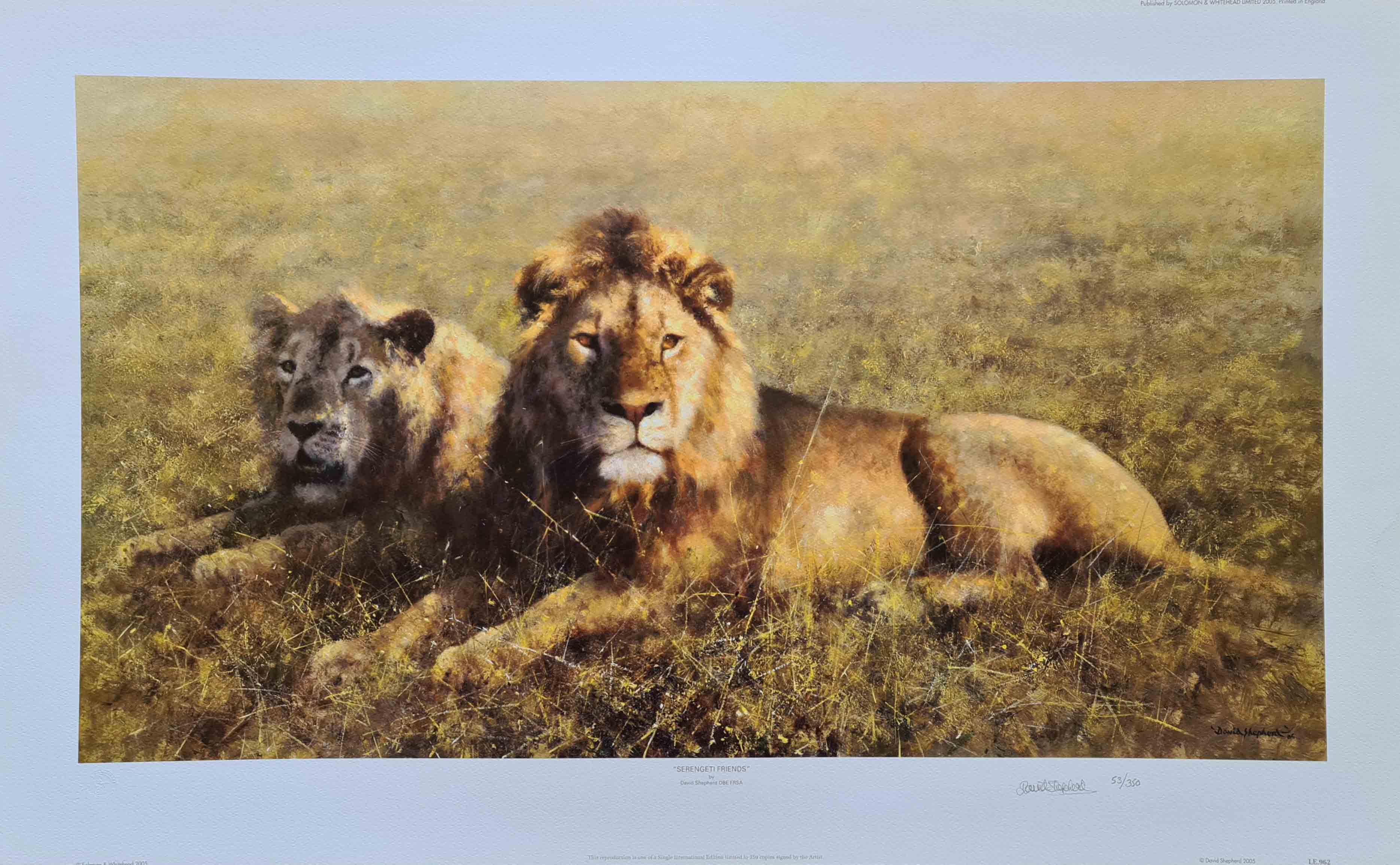 'Serengeti friends'
On a recent trip to the Serengeti National Park, when the fading light was begining to clothe the landscape in an evening glow,
I luckily came across these two magnificent young lions. As in so many parks in East Africa, lions have become used to the passing
visitor and as I began to sketch these two, they came up to the Landrover,
sat down behind it and fell asleep in the shade. They stayed there for half an hour. David Shepherd
Signed limited edition of 350
Published June 2006
Image Size 15" x 30"
Special price:- £ 295 including vat! Whilst stocks last.
We can also supply the work complete with french bound mount... (acid free, conservation quality)
Or framed complete with a range of frames to choose from in the studio, and a choice of
museum glass.
All well below retail gallery framing prices.
*Please note this is the copyrighted signed, limited edition of 350 personally signed by David Shepherd; it is not a book illustration.*
It is said that cats have nine lives, but they don't say that about the Serengeti lion. Life is hard and precarious on this unforgiving landscape, and dead is dead. For the greatest of African predators as well as for their prey, life spans tend to be short, more often terminating abruptly than in graceful decline. An adult male lion, if he's lucky and durable, might attain the advanced age of 12 in the wild. Adult females can live longer, even to 19. Life expectancy at birth is much lower, for any lion, if you consider the high mortality among cubs, half of which die before age two. But surviving to adulthood is no guarantee of a peaceful demise. For a certain young male, black-maned and robust, known to researchers as C-Boy, the end seemed to have arrived on the morning of August 17, 2009.
If you would like to visit the studio in Nottinghamshire, (Saturdays and Sundays are fine too) Please call 01623 799 309
We have a collection of over 500 David Shepherd signed limited edition prints and original paintings for sale.
Signed, limited edition, prints and original paintings, drawings for sale.
Cornwater Fine Art specialises in David Shepherd paintings and limited edition prints.
30 years experience and a collection of hundreds of David Shepherd signed, limited edition prints
Studio open 7 days a week!
Viewing by appointment
Back to David Shepherd signed prints for sale.
sitemap.xml