Somewhere in England, Winter of '43
David Shepherd
CBE OBE FRSA FGRA

---
---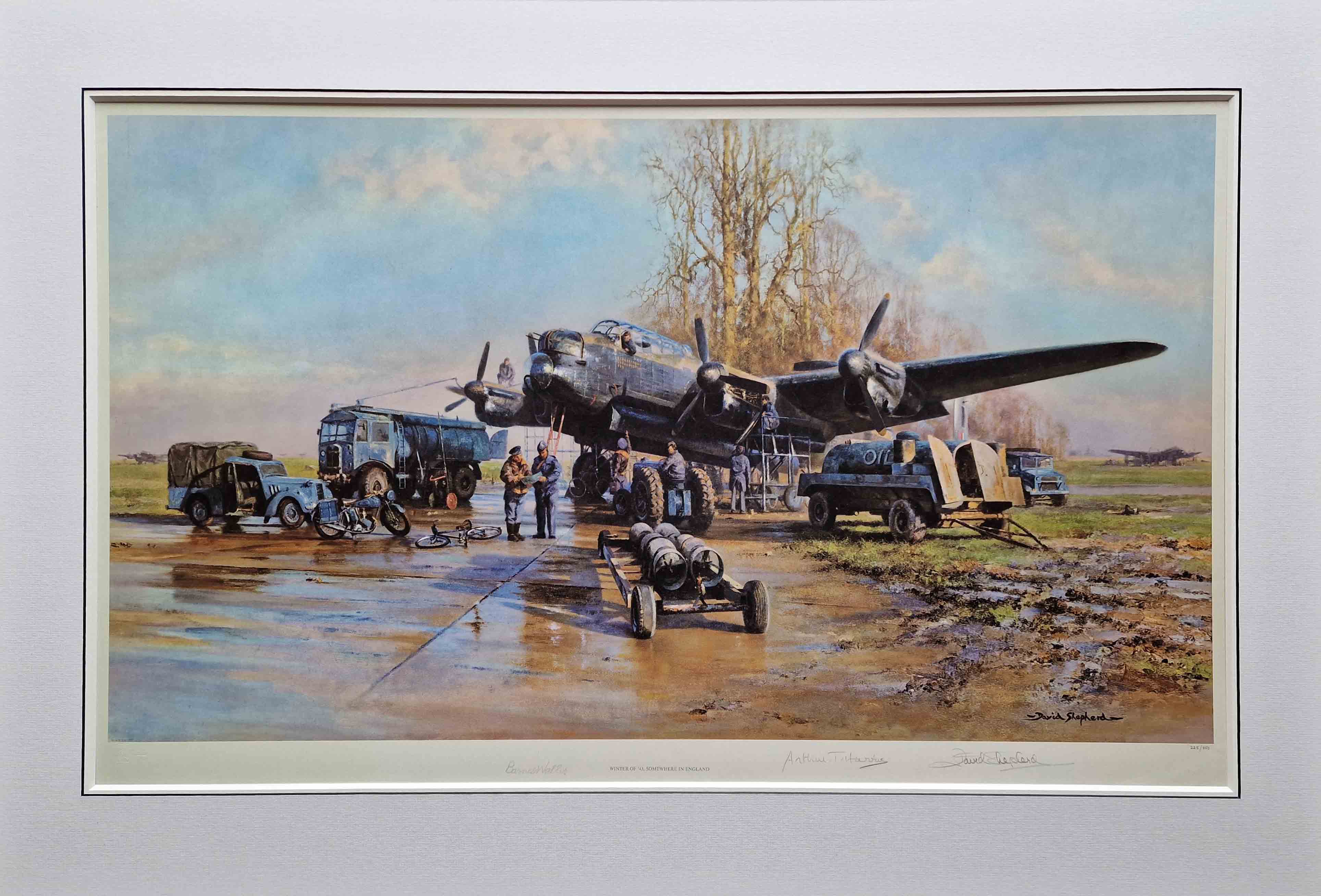 Winter of '43-Somewhere in England
Signed Limited Edition print of 850
Published 1977
Image Size 37" x 20"

A Lancaster bomber being refuelled and loaded ready foe its next sortie on a wet winter day in 1943.
© S & W © David Shepherd
A most amazing large painting, beautifully executed, capturing the atmosphere of the aircraft crew relaxing for a moment until they are called to there next mission.
'Winter of '43 - Somewhere in England' Limited Edition Print by David Shepherd
In 1977, to `repay his debt' to the Royal Air Force, David Shepherd painted a picture of a Lancaster bomber at dispersal, titling it 'Winter of '43 - Somewhere in England'.
He donated 850 prints, all signed and numbered, of this painting to the Royal Air Force Benevolent Fund, and the prints raised £96,000 for them.

Countersigned by Sir Arthur Harris
Marshal of the Royal Air Force Sir Arthur Travers Harris, 1st Baronet, GCB, OBE, AFC (13 April 1892 - 5 April 1984),
commonly known as 'Bomber' Harris by the press and often within the RAF as 'Butch' Harris, was Air Officer Commanding-in-Chief (AOC-in-C)
RAF Bomber Command during the height of the Anglo-American strategic bombing campaign against Nazi Germany in the Second World War.

Born in Gloucestershire, Harris emigrated to Rhodesia in 1910, aged 17. He joined the 1st Rhodesia Regiment at the outbreak of the First World War
and saw action in South Africa and South West Africa.
In 1915, Harris returned to England to fight in the European theatre of the war.
He joined the Royal Flying Corps, with which he remained until the formation of the Royal Air Force in 1918.
Harris remained in the Air Force through the 1920s and 1930s, serving in India, Mesopotamia, Persia, Egypt, Palestine, and elsewhere.


Countersigned by Sir Barnes Wallis
Sir Barnes Neville Wallis CBE FRS RDI FRAeS[3] (26 September 1887 - 30 October 1979) was an English engineer and inventor.
Born in Ripley, Derbyshire.
He is best known for inventing the bouncing bomb used by the Royal Air Force in Operation Chastise (the 'Dambusters' raid)
to attack the dams of the Ruhr Valley during World War II.
The raid was the subject of the 1955 film The Dam Busters, in which Wallis was played by Michael Redgrave.
Among his other inventions were his version of the geodetic airframe and the earthquake bomb.

This painting is regarded as one of David's finest aviation paintings;
However, the signed copy above is a very rare and exclusive document, destined for a specialist collector or museum.


The Lancaster was the work-horse of RAF Bomber Command and the most successful bomber of World War Two.
Lancaster crews took part in 156,000 missions and dropped 618,378 tons of bombs on targets in Germany and Nazi-occupied Europe.

© S & W © David Shepherd David Shepherd's published work

In the early 1960s the first print was published of David's work 'Wise Old Elephant'.
This was a bold move at the time, as until then wildlife prints had been relatively sparce.
Disributed by Boots, his first print, which was purely decorative and sold as a poster print, sold more prints than any other print worldwide.
Providing the recognition necessary for a successful career, David Shepherd's name soon became synonymous with wildlife art.
Within several years a number of his paintings had been published as poster prints and sold 'en masse' throughout the world.
Collectible prints were published as limited editions which were signed and numbered by David Shepherd.

His work has now become regarded as some of the finest watercolour paintings in the world.
© S & W signed, limited edition print publishers © David Shepherd prints


If you would like to visit the studio in Nottinghamshire, (Saturdays and Sundays are fine too) Please call 01623 799 309

We have a collection of over 500 David Shepherd signed limited edition prints and original paintings for sale.

David Shepherd Signed Limited edition prints 30 years experience and a collection of hundreds of David Shepherd, limited editions!

Studio open, 7 days a week!

Viewing by appointment

EMAIL:-

administrator@davidshepherd.com

Back to

David Shepherd prints

for sale.