Wise Old Elephant
David Shepherd
CBE OBE FRSA FGRA
---
---
This page is purely for information purposes. We do not usually stock or sell these prints.
Many have been published in the 1960s as decorative work and unfortunately due to the printing
(the inks were not light fast and the paper was not acid free), most are quite badly faded
The signature on the image is a print of David's signature on the original oil painting,
They are not and have never been produced as limited editions or have a personally signed signature.
David Shepherd may have signed in pencil some of the posters over the years whilst at talks and exhibitions
In the 1960s the prints were often dry mounted onto board and canvas, and varnished to give the impression of an original painting.
Poster print of decorative value only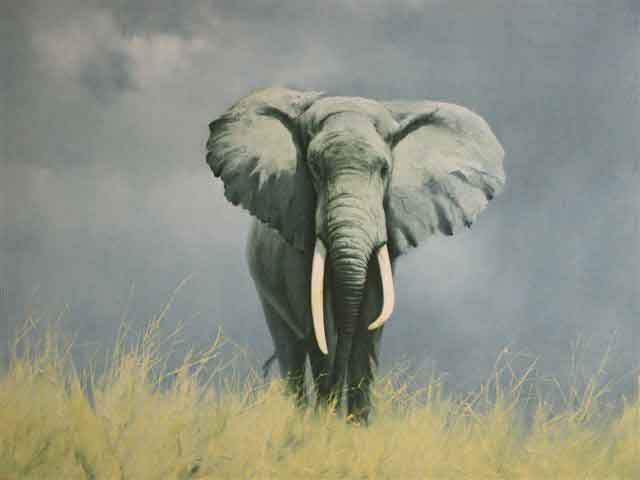 "Wise Old Elephant"
This iconic image launched David Shepherd's career.
It was cautiously published in the early 1960s, and to everyone's surprise became enormously popular; selling more prints at the time than any other print sold worlwide
There is no, or little value in the above image....
1) because here were so many printed (hundreds of thousands)
2) unfortunately most are now badly faded
3) it was published as a poster print
David did however publish 'Old Charlie', a similar image 25 years later to commemorate his 1st publication; 'Old Charlie;
This magnificent painting of an African Bull Elephant illustrates just how refined and detailed his paintings had become since the early days of 1962
Old Charlie was published as a signed limited edition stamped by The Fine Art Trade Guild in 1987.
Print
Image Size 20" x 30"
decorative value
This print was distributed by Boots in the early 1960's. It sold more prints than any other title in the world,
and as a result, launched David Shepherd's career as a serious wildlife artist.
Many old copies of 'Wise old elephant' can easily be found, unfortunately, due to the lack of poor inks used, most of them are badly faded.
Many were heatsealed onto canvas and then varnished to give the appearance of an original painting..
The print is really of decorative value only, ie. worth very little.. However, saying that, I have seen it for sale from £10-£495
However, there may be some worth in collecting this and other open edition images in good condition, as some old posters can be quite sought after
eg. Skiing, Travel, music..etc... sometimes achieving thousands of pounds

Cornwater Fine Art specialises in David Shepherd limited edition prints.