Into the Rift
Anthony Gibbs
---
---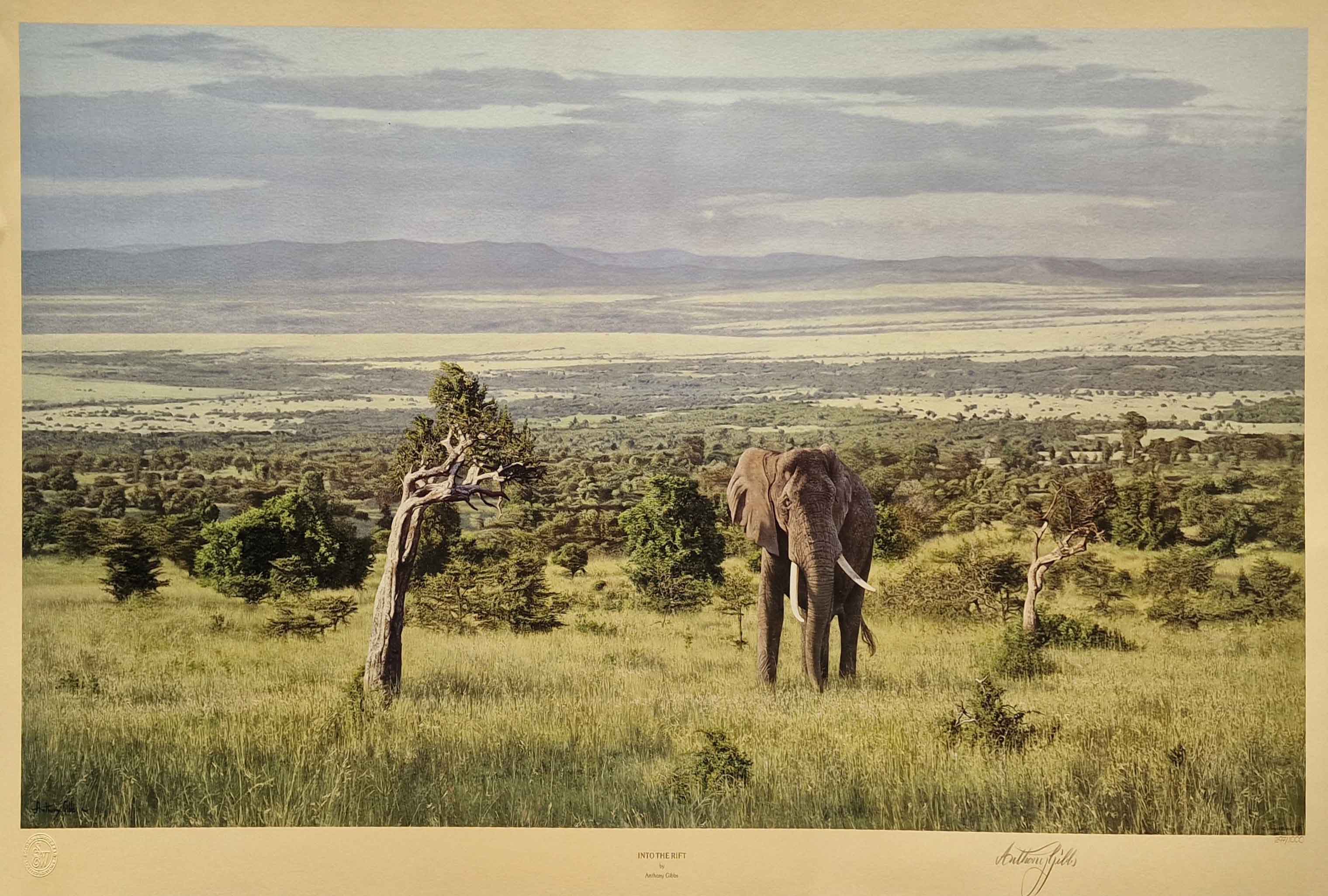 Into the Rift
by Anthony Gibbs
Limited Edition of 1000
Date of publication 1992
Image Size
£ 195

An absolutely stunning panoramic painting of the Rift Valley, located in Eastern Africa, the detail is incredible.
The Rift valley consists of a group of independent interior basins, extending from Djibouti in the north to Tanzania in the south, nearly half being located in Ethiopia.

In Kenya, the valley is deepest to the north of Nairobi. As the lakes in the Eastern Rift have no outlet to the sea and tend to be shallow,
they have a high mineral content as the evaporation of water leaves the salts behind.
For example, Lake Magadi has high concentrations of soda (sodium carbonate) and Lake Elmenteita, Lake Bogoria, and Lake Nakuru are all strongly alkaline,

We have a small number of this edition .. never been framed in its original folder
A very sought after image , and virtually unobtainable.
Anthony Gibbs was born in 1951 in Birmingham.
He went to Bourneville School of Art for one year, but is mostly self-taught.
His first one man show was in 1976 at the Colmore Galleries, with further one man exhibitions at this venue following, in 1977, 1978, 1981, 1983, 1988 and 1991.
Anthony Gibbs had a one man exhibition Nature In Art at Wallsworth Hall, Gloucestershire in 2000.
His first limited edition print released February 1988 "White Tigers Ever Watchful" was an edition of 1550, the largest edition of a limited print by Solomon and Whitehead at the time,
and the largest order from the from the USA (650) they have ever had.
He went to Kenya for the first time in February 1989, and is a member of the Society of Animal Artists in New York, The Woodland Trust.
He won the Peoples Choice Award on a national tour exhibition of the USA in 1992 and 1993, with the Society of Animal Artists.
Anthony Gibbs was awarded the Award of Excellence Medal from the Society in 1997 and 2001.
He has exhibited at numerous venues across the USA with the Society of Animal Artists and also across Britain;
exhibitions including the Mall Galleries, Nature In Art, Wildfowl And Wetlands Trust, London.
He has sold work through both Christies and Sothebys.
Anthony Gibbs went to the Yellowstone National Park and Tetons National Park to study the wildlife and habitat in the U.S.A. in 2003.
administrator@davidshepherd.com
Back to
David Shepherd
prints for sale.