01623 799 309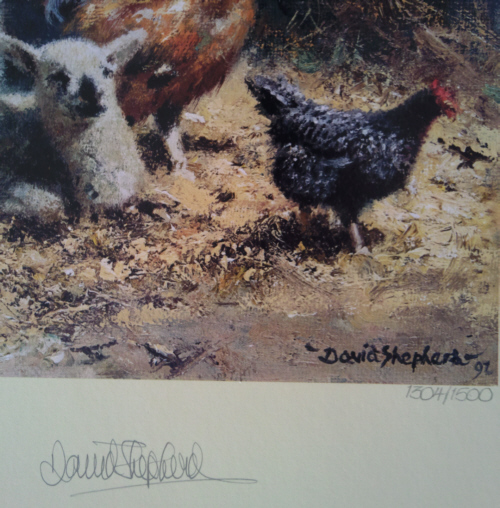 Print or Giclee?
Where are the Prices?
Print or Painting?
Is it a signed limited edition?
Wash/line french bound mount?
French bound mounting?
Fine Art Trade Guild Stamp?
The Fine Art Trade Guild Code List
"Is my picture a signed, limited edition or an original painting..?"
Many open edition/poster prints in the 1960s and 70s were stuck (dry mounted) onto board or canvas and then varnished
over to give the impression of an original oil painting.
Prints are made up of small dots, so by examining the surface with a magnifying glass, you should easily be able to see a difference...
99.9% of original paintings, particularly by famous artists such as L.S.Lowry, Sir William Russell Flint and David Shepherd
have a good provenance, tracing them back to a bill of sale by the artist, or a gallery that deals with such work;
even years ago these artists were very well known and an original would be a prized and expensive possession
It is extremely rare that such an item would turn up in a loft, house clearance, car boot sale, charity shop etc....
Is my print of any value.... a signed, limited edition...?
When a print is signed, it is usually signed in pencil (or ocassionally biro) just off the image on the bottom right of the picture...
Eg..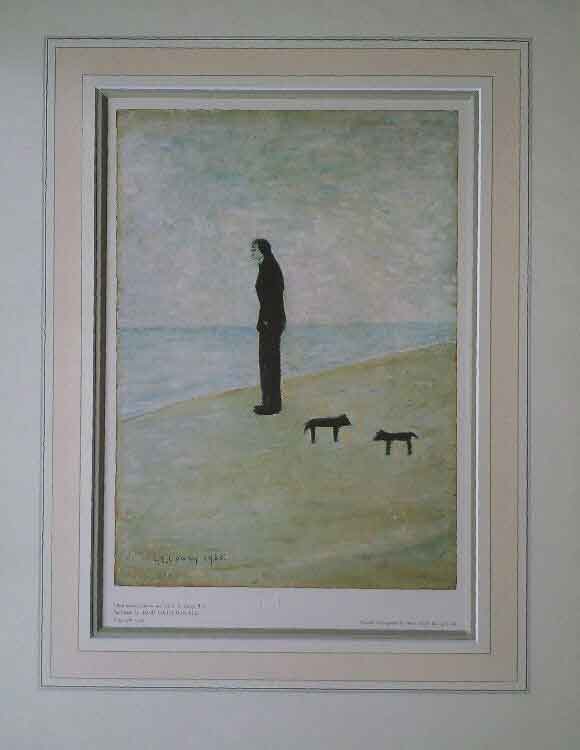 The signature on the image, is a printed signature (from the original painting).... This is not a signed print..

If the print has a mount upto the image, and is not showing any border around the print, it can usually be taken that this is a poster print, (the pencil signature or publishers stamp will not be hidden behind the mount).

The publishers stamp, and/or numbering will usually be on the bottom left just off the image.

There are many open edition (poster) prints by Lowry,
these are just decorative and do not have any substantial value

After the artist's death, limited edition prints have been published; these will show a publisher's embossed stamp and/or numbering at the bottom of the print, just off the image.

A large number of images by Sir William Russell Flint were published as calendar prints .. approx 14"x 18" image size..., these are just decorative and have no secondary market value.
There are approximately a dozen or so poster prints by David Shepherd, the most common one being 'Wise old elephant' Painted in the early 1960s... the printed signature on the image showing ...... David Shepherd '62

What is a wash/line french bound mount?
This special, handmade mounting is a combination of traditional English and French
techniques.
The lines and wash are drawn/painted around the mount to compliment and balance
the colours in the picture, much care and subtlety is needed to create a good
wash/line mount.

Each mount is individually made for each particular picture.
The french binding is the inset deeper mount...
usually covered with a linen finish to compliment the colour in the picture.

What is The fine art trade guild stamp?


The FATG is an independant body that monitor the publication of certain titles,
making sure that the work is copyrighted and that the printing plates are destroyed,
and that no other publications of the image exist as a limited edition.

They also ensured that the inks used in the publishing are upto a certain standard
and are light fast (as much as the technology allowed at the time of publishing)
Also that the paper used was of good quality, and acid free
The maximum size of a limited edition was 850
An embossed stamp was placed on the print, with three letters that would correspond to the particular print number in that edition
A signed limited edition would be stamped bottom left just off the image, an unsigned, limited edition would be stamped just under the image in the middle
To view an image of the FATG stamp and leaflet, please click on the button below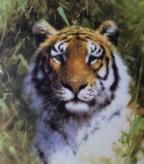 Signed, limited edition, prints and original paintings, drawings for sale.
We specialise in David Shepherd paintings and limited edition prints.
30 years experience and a collection of hundreds of David Shepherd signed, limited edition prints
Studio open 24 hours a day, 7 days a week!
Viewing by appointment
administrator@davidshepherd.com

England 01623 799 309 or mobile 07974 371 255

All major credit/debit cards
We specialize in
signed prints
and original paintings and drawings by the world acclaimed
artist
L.S.Lowry.
The demand for his work has now reached record highs, and due to the relatively few signed limited edition prints available,
they are proving to be an excellent investment, much greater than any current banking investments.
A watercolourist, whose work needs little introduction in the world of art is Sir William Russell
Flint
.
We stock hundreds of this artist's signed limited edition prints and always a fine selection of his original watercolour paintings.
Throughout his life Sir William Russell Flint has spent many years painting beautiful watercolour images of scenes in France,
in particular Dordogne and the Perigord, where this beautiful holiday house is to let
click
here
and offers complete tranquility and relaxation.
There are also a number of signed limited edition prints of paintings from Britanny, The Loire, Ardeche, Provence.
We have for sale several original paintings from the south west France, near to the beautiful towns of Brantome and Perigueux and also Languedoc
His work has now become regarded as some of the finest watercolour paintings in the world.
Back to
David Shepherd
prints for sale