Buffalo; Big Five Collection
David Shepherd
CBE OBE FRSA FGRA
---
---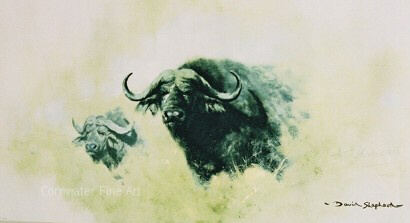 Buffalo
Signed, limited edition
Published 1975
Image Size 15.75" x 9"
The Complete set of five images in wash/line mounting
The Big Five
Rhino
Leopard
Lion
Buffalo
Elephant
Price £795 inc. vat
The American bison or simply bison, also commonly known as the American buffalo or simply buffalo, is an American species of bison that once roamed North America in vast herds.
The African buffalo is a very robust species. Its shoulder height can range from 1.0 to 1.7 m (3.3 to 5.6 ft) and its head-and-body length can range from 1.7 to 3.4 m (5.6 to 11.2 ft).
The tail can range from 70 to 110 cm (28 to 43 in) long.[3] Compared with other large bovids, it has a long but stocky body (the body length can exceed the wild water buffalo,
which is heavier and taller) and short but thickset legs, resulting in a relatively short standing height.
Savannah-type buffaloes weigh 1,100 to 2,200 lb, with males normally larger than females, reaching the upper weight range.
Studio open, 7 days a week!
Viewing by appointment
EMAIL:-
administrator@davidshepherd.com
Sir
William Russell Flint.
As has the wildlife art by David Shepherd whose prints and
paintings
can be viewed and bought here.
WiseInvestmentsForBritishArtCreations
Many, Dormouse
photo, tiger fire
brompton square 1
original, oak
rhino's last stand
december tints
paintings, gone
original zebra
winter elmsposter
portrait painting
elephant signed
Dormouse
lions pencil
french bound mounts
valuable
ziggy
photos
Foden
mountain gorilla
original 2 lions
elephant 3
world wildlife
Polperro
nine elms
smokey Thames
Rhino, wildlife of the World