Signed, limited edition
Big Five, Buffalo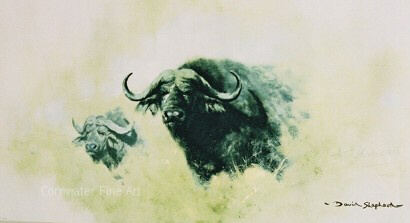 Buffalo

Signed, limited edition

Published 1975

Image Size 15.75" x 9"

The Complete set of five images in wash/line mounting

The Big Five

Rhino

Leopard

Lion

Buffalo

Elephant

Price £795 inc. vat

David Shepherd, CBE, FRSA, FRGS, OBE.
Internationally renowned as one of the world's leading wildlife artists, and a passionate conservationist and he has always been quoted as saying that he has a large debt to the animals that helped in his success as an artist.
David Shepherd has produced many hundreds of paintings, not only of wildlife, for which he is so well known, but of steam engines, aircraft and portraits.
He has many stories of his early days as an up and coming artist, and enjoys sharing these often humourous accounts with his audiences when public speaking,
He has strong views on conservation, and does his best to express them whenever a chance arises.

David 'tumbled' into art in his younger days, mainly because he was not too good at other subjects. "My life was a total disaster until I was 20 years old. My one and only ambition was to be a gamewarden, so when I'd finished my education, He often explains how unsuccessful he felt his life was as a boy, and he dreamt of going to be a game warden in Africa. So after he left school, he promptly bought a passage to Kenya and presented himself to the head game warden, who sadly told him there were no vancies. The news was devastating, he had no idea what he would now do. His only interest in art had been to use it as an escape from the rough world of school rugby. Rather than be injured on a muddy field, he went to the art department and painted an awful picture of birds.

Deflated and homesick, he took a job as a receptionist in a hotel on the Kenya coast; the salary was one pound a week. "So there I was at Malindi on the Kenya Coast in this hotel. I painted some more bird paintings on plasterboard, and I sold seven of them for £10 each to the
culture-starved inhabitants of the town and paid my passage home to England on a Union Castle steamer." Arriving home, penniless, he had two choices,Mr Shepherd decided he could either become an artist or a bus driver. Since he suspected that most artists starved in garrets, life as a bus driver seemed the safer bet.

"But my dad was marvellous and said that if I really wanted to be an artist, I'd better get some training. The only school we knew anything about was The Slade School of Fine Art in London, so I sent them my first bird painting." The Slade, too, turned him down. He had no talent, they said, and he wasn't worth teaching. The bus driver position was looking more likely all the time, except for a 'chance meeting that changed my life'. At a London cocktail party, the young artist was introduced to Robin Goodwin. Robin was a professional painter who specialised in portraits and marine subjects. (considered to have been one of the finest marine painters of this century). He didn't and wouldn't take students, Robin told him, but he agreed to have a look at the work.

"The next day, I trotted up to the studio in Chelsea and a miracle happened. I showed him that very first bird picture, which I still have and, for reasons that I have never been able to understand, he decided to take me on. I owe all my success to that man. He is responsible for my being where I am today."

'The Man who loves giants.'

In 1976, his autobiography, 'The Man Who Loves Giants', was published and rapidly became a best seller. He revised and updated it in 1989. 'A Brush with Steam' was published in 1984 and in October 1985, The Man and His Paintings' was published, which, for the first time, brought together in a single volume a fully representative selection of his work. In 1992, 'An Artist in Conservation' was published, which is a stunning collection of the best of his wildlife art with over 90 colour plates.

In October, 1995 , 'My Painting Life' and 'Only One World' were published and in 2004 his latest book, 'Painting with David Shepherd, His Unique Studio Secrets Revealed' was published.

TV Documentaries


In 1972 the BBC produced his life story 'The Man Who Loves Giants', a 50-minute documentary film, narrated by his friend, the late James Stewart, and which has been shown all over the world.

Other documentaries for television have also been made, including 'Last Train to Mulobezi'; this film tells the epic story of the rescue from the Zambezi Sawmills Railway in Zambia of an ancient locomotive and railway coach and their 12,000 mile journey back to Britain. These were presented as a gift by His Excellency, Dr Kenneth Kaunda, the then President of Zambia, after raising funds with other artists, (through an auction of seven paintings in the USA). This enabled him to buy a helicopter, which he presented to the Government of Zambia for anti-poaching work.

In 1988 he made the series 'In Search of Wildlife' with Thames TV; a series of six half-hour films, featuring endangered mammals throughout the world.
These have subsequently been shown in the United States of America on the Public Broadcasting Channel. Also in 1990 he made the first programme
in the annual series of 'Naturewatch' with Julian Pettifer; and has been the 'target' for 'This is Your Life'.

Awards
1971
Honorary Degree in Fine Arts by the Pratt Institute in New York.
1973
The Order of the Golden Ark by HRH The Prince of The Netherlands for his services to conservation.
1979
Member of Honour of the World Wide Fund for Nature
The Order of the British Empire for his services to wildlife conservation.
1986
Fellow of the Royal Society of Arts.
1988
President Kenneth Kaunda of Zambia awarded him with the Order of Distinguished Service.
He was made a Fellow of the Royal Geographical Society
Honorary Doctorate of Science of Hatfield Polytechnic (now the University of Hertfordshire) in 1990.
1996
Officer (Brother) of the Order of St. John.
2004
Granted the Freedom of the City of London.
2008
Awarded a C.B.E. for services to charity and wildlife.

David today


"An artist who seems to stride across continents". In today's scheme of things, he is a larger-than-life figure
who is regarded by many people as being the world's leading wildlife painter. His signed, limited edition prints can be seen in many homes
throughout the world and he lives life at a dizzying pace, enjoying it to the fullest.

"I want to live to be 150. It will take that long to do everything I want to do. Unlike some people who perhaps lead a humdrum existence,
I run almost everywhere I go because I am so anxious to get on with the joy of what I am doing next."

Mr Shepherd celebrated his 70th birthday on 25th April 2001 with a fundraising dinner at the Natural History Museum
which made over £100,000 for wildlife projects.
His 80th birthday in 2011 is to be held at the same venue, and will be an exciting and fascinating evening with many celebrities
hopefully achieving record amounts for the protection of endangered animals and world conservation.

If you would like to visit the studio in Nottinghamshire, (Saturdays and Sundays are fine too) Please call 01623 799 309
We have a collection of over 500 David Shepherd signed limited edition prints and original paintings for sale.

© S & W © David Shepherd
Signed, limited edition, prints and original paintings, drawings for sale.
Cornwater Fine Art specialises in David Shepherd paintings and limited edition prints.
30 years experience and a collection of hundreds of David Shepherd signed, limited edition prints in the UK!
Studio open 24 hours a day, 7 days a week!
Viewing by appointment
EMAIL:-
administrator@davidshepherd.com
A watercolourist, whose work needs little introduction in the world of art is
Sir
William Russell Flint.
We stock hundreds of this artist's signed limited edition prints and always a fine selection of his original watercolour paintings.
In the heart of Sir William Russell Flint country, deep in south west France, near to the beautiful towns of Brantome
and Perigueux is a Holiday house to let in Dordogne
France
offering complete tranquility and relaxation.
The paintings and
signed
prints by L.S. Lowry have become extremely collectable.,br /> As has the wildlife art by David Shepherd whose prints and
paintings
can be viewed and bought here.