Melting Snow
David Shepherd
CBE OBE FRSA FGRA
---
---
Poster print of decorative value only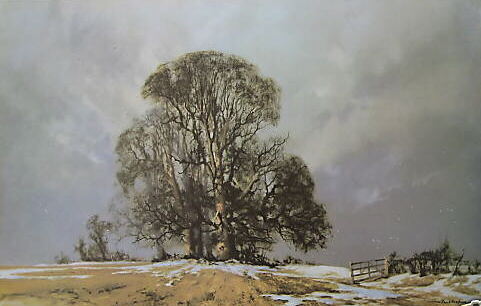 Melting Snow
Open edition/ poster print

Not in stock

The first signs of Spring, as the snow begins to melt and the snow drops appear, like magic from the ground.
Another year begins, and the farmer will take note of the small changes that many of us would miss altogether.
Signed, limited edition, prints and original paintings, drawings for sale.
Cornwater Fine Art specialises in David Shepherd paintings and limited edition prints.
30 years experience and a collection of hundreds of David Shepherd signed, limited edition prints
Studio open 7 days a week!
Viewing by appointment
administrator@davidshepherd.com
L.S. Lowry.
Sir William Russell Flint here.
Back to David Shepherd signed prints for sale. faq
news
stag
addURL
poster prints
trains
British wildlife
works of art
Kenya
Scavengers
framing
CBE
elephant drawing
silkscreens
train photo
Willesden sheds
tiger sketch
blue door
Dhala
farm original
lion sketch
Ireland
monkey
original landscape
teddy
big cats
Masai
cricket
RAF Conningsby
tiger sketch
elephant drawing 2
world wildlife
secondary prices 2007
shepherd street
privacy
elephant drawing
English oaks
tiger cameo
up a gum tree
lazy hazy days
frames
original elephant
elephant 2
Christ on the battlefield
making an investment
elephant, ink
panda sketch
URL list
elephant cameo, original
Joanna Lumley
elephant 1, original
landscape, oak
cheetahz
tiger cubs, sketch
heathrow, terminal 2
guild code list
lions heead, sketch
articles
faq
faq
faq
faq
faq
faq
majestic Elms
Brian May
jungleman
T&C
orphans
northern British art
Beauchamp place
lions bw
Ranthambore tiger
Cowland, Cirencester
Brompton square
orang-u-tan , sketch
prince of Rannoch moor
lions head, 1983
Tiger Haven
Heavy Freight
lion, signed
BatEared Fox
654 squadron, Tunisia
elephant and babies
tiger drawing
cheetah, ww
rhino, signed
wide art investments
waterhole, giraffes
Investing in British art
Hallidays
FATG stamp
signature, stamp
lone wanderers of the Arctic
Hippos II, original
656 squadron, Malaya
black lab
rhino beware
elephant, pencil
FATG codes