Making an art investment
---
---
As an art collector, certain art investments you make, will be much higher in price than others.
When you do choose to make an art investment, you have to make certain it is a genuine piece,
and that it is created by the actual artist, rather than a replica you are buying.
Whether you buy from an art museum, a gallery, or through a third party seller, or a private owner,
you have to find out the validity of the pieces you want to buy, prior to making an extremely
high art investment, on a piece that is not genuine.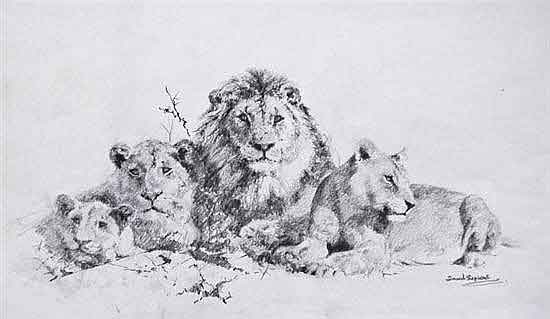 'Pride of Lions' Original Drawing by David Shepherd
pencil drawing, signed lower right, signed, dated 2008 and dedicated by the artist verso
Image Size:- 8 3/4 x 14in. (22 x 35.5cm.)
One of the easiest ways to find out the correct value, prior to buying an art investment that
is expensive, or may not be original, is to get a valuer check the piece.
You can hire a professional to look at the work, the frame, the sculpture, and all other design details,
to assess whether or not it is a valid piece, a replica, or a fake that is being sold to you. From there,
you can determine whether or not the value of the art investment you are making is worth it; you can also
get a valuation from the professional you hire, to determine whether it is worth the price the seller is
asking for it or not.
Certificates of authenticity are another way to determine validity, and whether or not an art investment
you are making is worth the price. The pieces that are truly collector items, are going to have a valid form,
proof of insurance, and certification and warranties, that all come with the painting or sculpture you want to buy.
As a buyer, you have to request all of these documents from a seller, in order to ensure you are getting a genuine
piece, and a one of a kind item, rather than something that has been mass produced. Certain art investments can add
up quickly, especially if an artist is deceased, or only if they made few of the same items you want to buy. But, as a buyer,
you have to be smart, do your research, and find out as much as possible about certifications and warranties, to ensure
the item you are buying, is truly an original, or whether it is a replica that the current owner is trying to pawn off
on you for a high price.
The bottom line is; Buy from a gallery or dealer that is an authority on the work, you wish to purchase, from someone you trust
and is well known for many years throughout the trade.
When making an art investment, a collector also has to consider the artist, their time period, and the works they created,
Certain works are going to be valued more than others, simply because of the time period it was made in; others are going
to cost more if they are from a well known artist. So, prior to making a price art investment, you do have to find out this
information, about the art, the time period, and the artist, to find the best art forms, and the ones that are truly worth
the price, when you are looking to add to an extensive art collection you own, or are trying to build up.
Purchasers have to compare the art investment, with others of the same time period, and of similar works and artists, to
determine whether the value of a particular piece is worth it or not. In some cases, you will learn that an art piece is
not worth a price, simply because of the time period it was created in, or because more than a limited number of pieces
were made. You have to check in to as much information as possible before you buy, so you can determine whether or not it
is really worth spending the price for a piece of art. All collectors are different, and each one is willing to make a different
art investment amount, when they are purchasing art work; but, before any items are bought, investors have to consider all pieces,
and have to do their research, to ensure the items they are going to buy, are truly worth the price they are being charged, and
are truly collector items that all investors are looking to purchase, when the time comes to decide on whether or not to buy a piece.
The number of paintings, sculptures, or designs that are being sold, and the number of items there are in a particular series, are
going to add to or deduct from the value of a particular piece. As an art collector, when you are going to make an art investment,
you have to keep this in mind as well. If more than 50, 100, or more pieces were made, the value is going to decrease, since it is
not so rare, and since it is an easier piece for you to get your hands on as an art collector. On the other hand, if a piece is only
replicated by an artist 50 times, or fewer, you are going to find that the art investment value is greatly going to increase, due to
the fact that it is a rare piece, and is one that many collectors are going to be willing to pay a higher price for, when they are
looking for the best pieces to add to their art collection. So, rarity is one of the main factors to consider when you are trying
to add to your collection, and want to decide whether or not a particular piece is worth the price.
Many art collectors are willing to spend millions on an art piece; if you are looking to add, and want to make an art investment,
you have to make sure the items you buy are truly worth the price you are going to pay for them. As a collector, you have to research,
go to local art auctions, and art galleries, and find out as much as possible about a piece and an artist, in order to determine
whether or not it is worth the larger amount you are about to spend on the art investment of choice.
© Solomon & Whitehead © David Shepherd
Signed, limited edition, prints and original paintings, drawings for sale.
Cornwater Fine Art specialises in David Shepherd paintings and limited edition prints.
30 years experience and a collection of hundreds of David Shepherd signed, limited edition prints in the UK!
Studio open, 7 days a week!
Viewing by appointment
We specialize in
signed prints
and original paintings and drawings by the world acclaimed artist L.S.Lowry.
The demand for his work has now reached record highs, and due to the relatively few signed limited edition prints available,
they are proving to be an excellent investment, much greater than any current banking investments.
A watercolourist, whose work needs little introduction in the world of art is Sir William Russell
Flint
.
We stock hundreds of this artist's signed limited edition prints and always a fine selection of his original watercolour paintings.
Throughout his life Sir William Russell Flint has spent many years painting beautiful watercolour images of scenes in France,
in particular Dordogne and the Perigord, where this beautiful holiday house is to let
click
here
and offers complete tranquility and relaxation.
There are also a number of signed limited edition prints of paintings from Britanny, The Loire, Ardeche, Provence.
We have for sale several original paintings from the south west France, near to the beautiful towns of Brantome and Perigueux and also Languedoc
His work has now become regarded as some of the finest watercolour paintings in the world.
Back to
David Shepherd
prints for sale.
nine elms
lion 2
Basra
Gemsbok
service by night
farm buildings
happy hippo
original, train
scavengers
baobab tree
black prince
elephant poster
GetToUnderstandTheImportanceOfArt
muffin
cheetahs, drawing
poster prints
lion cub
cheetahs 1967
lionandrhinocameos
ranthamboretiger
bw-cheetah, drawing
sentinel
Iran embassy
elephant 7
original river
cambridge-thebacks
Basra, military
military
train-original
over the forth
original, african elephant
St. Michael's Mount, Cornwall
bengaltigercameo
buffalo
on shed
spitfire
African Cheetah
subnigelmine
somersetharvest
Shibam
biography
celebrationofelephants
africanchildren
snowontheequator
gunraid
mevagissey
scotsman '34
battle imjin
cuneo63
equestrian
City of Germiston
dhalaroad
brush with steam
armysuffield
harbour-mevagissey
Lincoln
cheetahcubcameo
original painting, lion
cheetahsposter
british-wildlife
luangwa
original painting, tiger
guildfordsteamsheds
original-lion7
elephant, pencil
Cambridge, King's Parade
concorde-redarrows
pigs
the man who loves giants
landscape,oak, original
Shepherd street
original-thatchedcottages, Wherwell
manandhispaintings
original-littlejohn
paintings of Africa and India
steam train, original, drawing
christinthebattlefield
royal horses artillery
antelope
SAS
bw-tigers
leopardcubcameo
leopardssketch
artist in Africa
blackfive
original-hippos