Elephants and Lion
Original Painting
David Shepherd
CBE OBE FRSA FGRA
---
---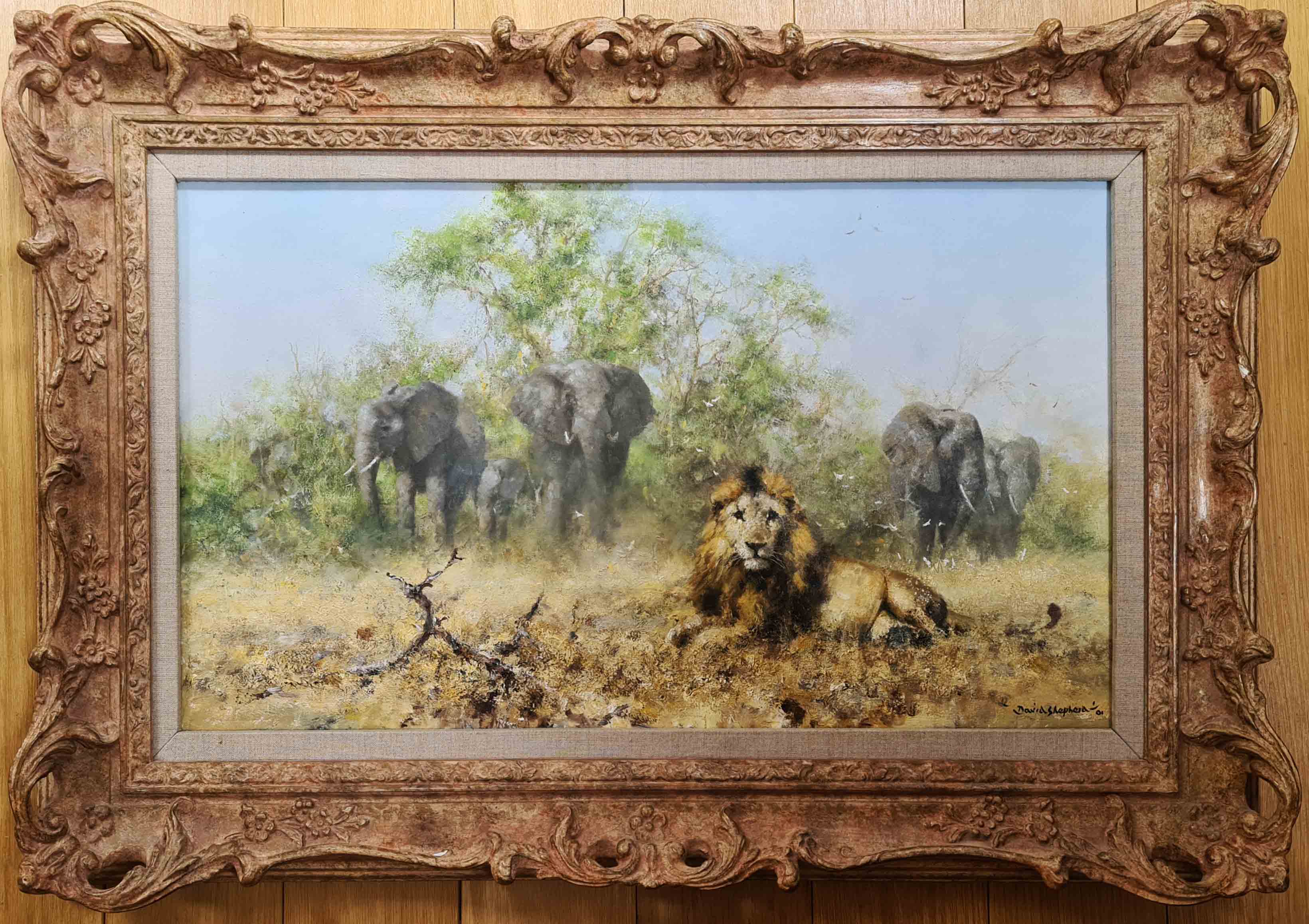 'Elephants and Lion'
Original Oil Painting on canvas
Image Size 25 x 14 in. (64 x 36cm.)
Complete with frame 32 x 21 in (81.5 x 53cm)
Signed David Shepherd
This painting was purchased from an individual in London, whose father commissioned the work, and knew David personally.
He had spent a while working in Tanzania, and actually saw this scene one day, with the elephants in the background and a lion resting on the grass.
Tanzania is an East African country known for its vast wilderness areas.
They include the plains of Serengeti National Park, a safari mecca populated by the 'big five' game
(elephant, lion, leopard, buffalo, rhino), and Kilimanjaro National Park, home to Africa's highest mountain.
administrator@davidshepherd.com
Cornwater Fine Art specialises in David Shepherd paintings and limited edition prints.
30 years experience specializing in David Shepherd's original paintings and signed, limited edition prints.
Visit the studio in Nottinghamshire.
© David Shepherd
David Shepherd main page
country cousins
decorative signed prints
elephant, open edition
frequently asked questions
giantsatrest
Great known works of art in the world
Haggis of Battersea
happyhomefordonkeys
Iraq, war
How to make money through art
How To Market Your Art
HowToUnderstandTheImportanceOfArt
icewilderness
Immortal Hero
Investing In The Volatile World Of Art
landofthebaobabtrees
LearnMoreAboutTheIncreasingValueOfArt
add url to website
Lion signed
water buffalo
menofthewoods, orang-utans
mountaingorillasofrwanda
mountain zebra
muscovyducks
News
decembertints