Joanna Lumley
David Shepherd
CBE OBE FRSA FGRA
---
---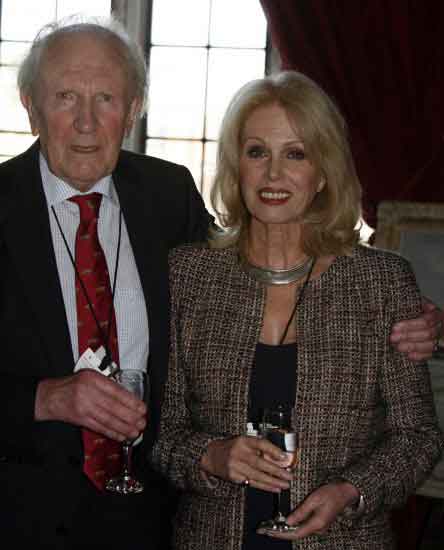 David with Joanna Lumley

Joanna Lamond Lumley was born on 1 May 1946 in Srinagar, Jammu and Kashmir, in the final days of British India.
Both sides of her family had generations of service to the Raj, with many of them born there.
Her mother, Thyra Beatrice Rose (nee Weir) (1920 - 2005), was English.
Her grandfather Lieutenant Colonel Leslie Weir (1883 - 1950) had been born in Ghazipur and served as an army officer in Kashmir; he was a close friend to the 13th Dalai Lama.
Her father, Major James Rutherford Lumley (1917 - 1999), was born in Lahore (now part of Pakistan) with Scottish and English roots.
He served as an officer in the British Indian Army's 6th Queen Elizabeth's Own Gurkha Rifles in Burma during World War II, most notably at the Battle of Mogaung.
His life was saved by Tul Bahadur Pun
Joanna Lumley's parents married in 1941. She has early memories of living in the tropics.
The family went home on leave to England, and when her parents returned to Asia, she stayed, boarding at Mickledene School in Rolvenden, Kent.
She was only eight years old, which she later described as 'paralysingly young'. From 11 to 17 she attended St Mary's Convent School on the Ridge, run by Community of the Holy Family.
"I especially loved my second boarding school, an Anglo - Catholic convent in the hills behind Hastings. The nuns wore blue stockings and were brainy and lovely.
There were 70 boarders and I was happy as a clam." She attended the Lucie Clayton Finishing School in London, after being turned down by the Royal Academy of Dramatic Art at the age of 16.

We have for sale several original paintings from the south west France, near to the beautiful towns of Brantome and Perigueux and also Languedoc
His work has now become regarded as some of the finest watercolour paintings in the world.
David Shepherd prints for sale.