David Shepherd CBE FRSA FGRA
(25 April 1931 - 19 September 2017)
Decorative (open edition) Prints

This page is purely for information purposes. We do not stock or sell the prints listed below.
Many of these prints have been published in the 1960s as decorative work and unfortunately due to the printing
(the inks were not light fast and the paper was not acid free), most are quite badly faded
The signature on the image is a print of David's signature on the original oil painting,
They are not and have never been produced as limited editions or have a personally signed signature.
David Shepherd may have signed in pencil some of the posters over the years whilst at talks and exhibitions
In the 1960s the prints were often dry mounted onto board and canvas, and varnished to give the impression of an original painting.

                                     
   Elephants at Amboseli       Storm over Amboseli              Wise old elephant             Lords of the jungle


                                    
       Melting snow                Winter plough                     Autumn                    March sunlight


                                    
    Nine Elms                      Kynance Cove                 Mevagissey harbour              Polperro harbour


                                       
Aerial view of London                London bus                       Liverpool                      English summer       
  old poster print                old poster print               old poster print                 old poster print


                                    
The Ivory is theirs            Somerset harvest                  Mukalla                       Brompton Square



                                            
      Shibam                     The Last Bales            Oil, Muck and Sunlight               Muffin's Pups



                                       
 The Ivory is Theirs              Slave Island                Lions poster print               Winter Elms/Misty Morn

                                 
 The Rhino's Last Stand               Cheetahs                       Tahili Fort, Buraimi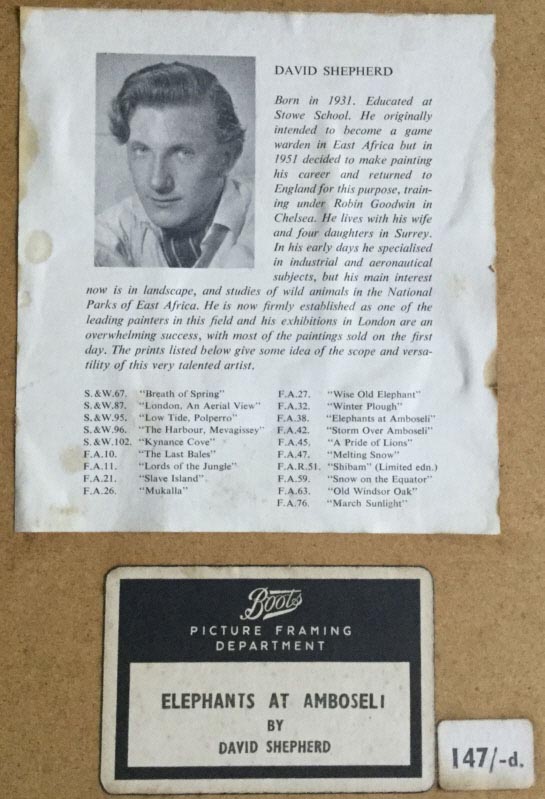 administrator@davidshepherd.com
Cornwater Fine Art specialises in David Shepherd paintings and limited edition prints.
30 years experience specializing in David Shepherd's original paintings and signed, limited edition prints.
Visit the studio in Nottinghamshire, or arrange a private viewing of prints or original paintings in your home.


© David Shepherd

All major credit/debit cards acceptedDavid Shepherd main page