English landscape
David Shepherd
CBE OBE FRSA FGRA
---
---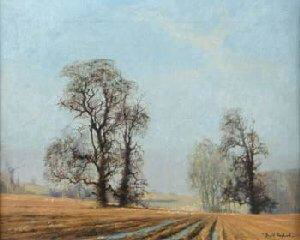 "English landscape"
Original oil painting on canvas
Image Size 15" x 19"
A typical landscape by David Shepherd, probably painted in the 1950s or 1960s.
In his home county of Surrey.
The Elm and Oak trees give a sense of depth, along with the water logged tractor tracks along the field.
Undoubtedley an Autumn scene, or possibly early Spring...?
There is quite a dramatic range of landscapes throughout Britain
From the flat plains of Lincolnshire,
to the forests of Nottinghamshire,
to the hills and mountains of North Wales and the Pennines
The Pennines, also known as the Pennine Chain or Pennine Hills, is a range of hills and mountains separating North West England from Yorkshire and North East England.
Often described as the "backbone of England", the Pennine Hills form a more-or-less continuous range in most of Northern England.
pandas drawing
pandas of wolong
pandas pencil
photo-collection
tiger fire, studio photo
polperro
portraitofatiger
portrait-painting
rannoch moor, stag, scotland
rhino beware
rhino reverie
Tibetan rug
sappi-blackrhinoceros
shoeing time
portrait of a tiger, pencil
roosters
sleepy tigers
thebestwaytosellart
The Importance Of Art In The Modern Society
The Importance Of Securing Art Creations And Inventions
theorphans
tigerhead 1983
original paintings, valuable
VC10, El-Adem
lone wanderers
whenigrowup
bengaltiger
wildlife of the world
lionessandcubs
siberiantiger
Willesdan shed
winterfoxes
winter in wolong
winter plough
zebra mother and foal
zebra-pencil
zebras and colony weavers
ziggy, duckling
french bound mounts
french bound mounts
Back to
David Shepherd
prints for sale.