Elephant (original pencil drawing)
David Shepherd
CBE OBE FRSA FGRA
---
---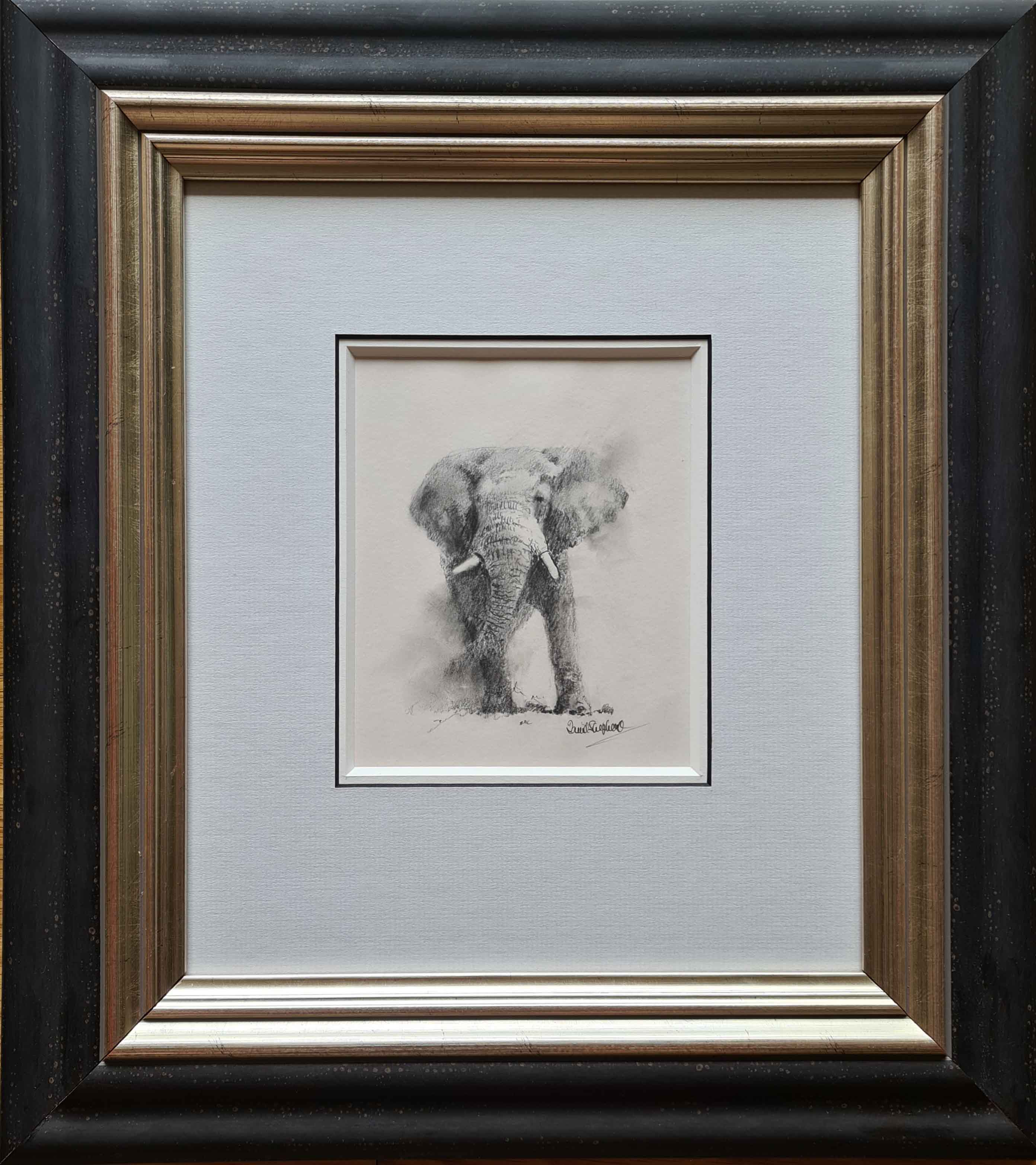 'Elephant (original pencil sketch)
Framed complete with museum glass, and french bound mounting.
Overall size with frame 50 x 46 cm (19.5 x 18 inches)
Image size 17.4 x 14.5 cm ( 7 x 6 inches)
We are very pleased to have acquired this drawing, being the latest addition to our collection of original drawings and paintings.
This sketch was presented to the winner of a competition in the Heartland magazine in 2000.
A lovely example of one of David's most sought after subjects.
Cornwater Fine Art specialises in David Shepherd paintings and limited edition prints.
30 years experience and a collection of hundreds of David Shepherd signed, limited edition prints in the UK!
Studio open, 7 days a week!
Viewing by appointment
EMAIL:-
administrator@davidshepherd.com
Lowry signed prints for sale
Sir William Russell Flint
Holiday house to let in Dordogne France
David Shepherd prints and paintings
The Radfan, 1964
actionatmirbat
afternoon flight, victor
aftertherain
antelope
ark turning
ArtAndInvestmentInArtFromTheIndustrialNorthOfEngland
Art An Investment For The Future Or Pleasure For The Present
Art Education And Its Social Context
bestspotsonthehill
bfrhino, big five
black-rhino, cameo
britishwildlife
buffalo
Buying Art Prints For Presents
cheetahcameo
country cousins
decorative signed prints
elephant, open edition
frequently asked questions
giantsatrest
Great known works of art in the world
Haggis of Battersea
happyhomefordonkeys
Iraq, war
How to make money through art
How To Market Your Art
HowToUnderstandTheImportanceOfArt
icewilderness
Immortal Hero
Investing In The Volatile World Of Art
landofthebaobabtrees
LearnMoreAboutTheIncreasingValueOfArt
add url to website
Lion signed
water buffalo
menofthewoods, orang-utans
mountaingorillasofrwanda
mountain zebra
muscovyducks
News
decembertints
elephant-pencil1, drawing
leopard
original-pencil-elephant
steam shed furniture
original-tiger, painting
tigersofranthambore
two lions, original
paintings-gone