Antelope
David Shepherd
CBE OBE FRSA FGRA
---
---
Click on image for details & to ENLARGE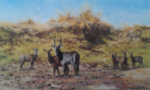 Water Buck
signed limited edition print
© S & W signed, limited edition print publishers ©
David Shepherd prints
The term antelope is used to refer to many species of even-toed ruminant indigenous to various regions in Africa and Eurasia.
Antelopes comprise a wastebasket taxon within the family Bovidae, encompassing all Old World ruminants that are not bovines, sheep, or goats.
The antelope has played an important role in human medicine and culture. In some African traditions, it is commonly associated with the wind.
The antelope's horns are composed of keratin. This is the same substance found in nails, hair, claws, and hooves.
However, as opposed to deer, which the antelope is often compared to, antelopes keep the same horns for their entire lives instead of shedding them every year.
The structure and shape of antelope horns vary widely. Some horns form spirals, others are curved, and yet others have ridges.
Experts can often distinguish antelope species based merely on the appearance of their horns.
30 years experience and a collection of hundreds of David Shepherd, limited editions!
Studio open, 7 days a week!
Viewing by appointment
Original paintings sold from various sources
EMAIL:-
administrator@davidshepherd.com
Back to
David Shepherd prints
for sale.
africanbabies
autumn
babygorilla
bengaltiger
bfbuffalo
big five, Lions
bfrhino
captainandsergeant
cheetah
dogs
donkeytalk
dustyevening
egretsandfriends
englishsummer
eveninginthedesert, military
eveningintheluangwa, Lions
fred after his shampoo, bull, cattle
high and mighty, giraffes
indiansiesta
inthethickstuff
kynance cove, cornwall
lastloadofsummer
Lions
Lions poster
marchsunlight
meltingsnow
mukalla
muscovyducks
old forge
orang-utan-pencil
englishlandscape
pandas2006
porkers
africanafternoon
portraitofatiger
portraitofatiger-pencil
ranthamboretiger
working sketch for a tiger
sleepytigers
summertime, horses
sunday best
Lions, pencil
threehappyjumbos
Tiger Haven
warthog
waterholetrilogy, giraffes
African evening, Zambezi waterhole