The Lunch break
David Shepherd
CBE OBE FRSA FGRA
---
---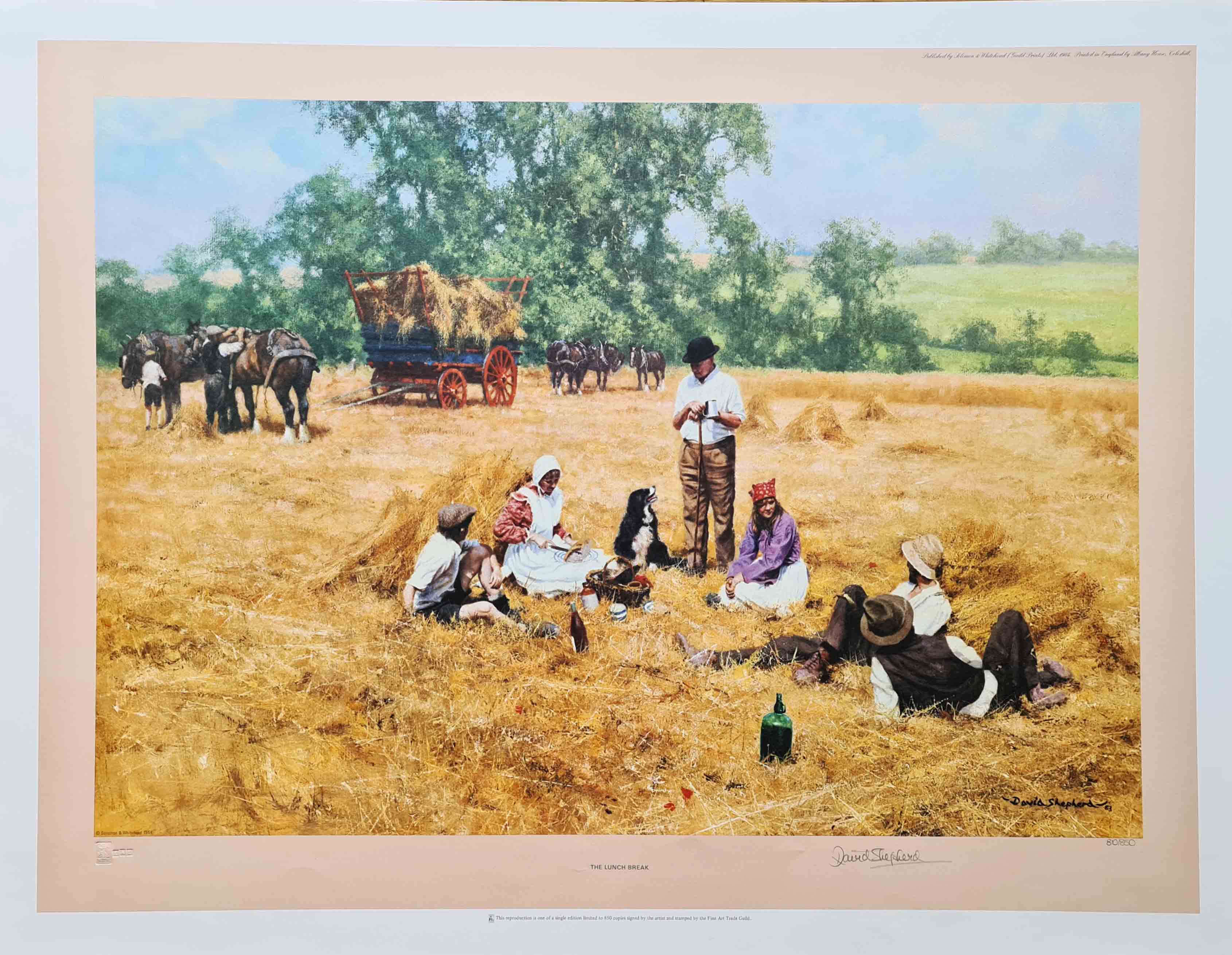 "The Lunch break"
Signed Limited Edition of 850
Date of publication 1984
Image Size 29" x 20"
In stock; please call:- 01623 799 309
Harvesting commonly refers to grain and produce, but also has other uses: fishing and logging are also referred to as harvesting.
The term harvest is also used in reference to harvesting grapes for wine. Within the context of irrigation, water harvesting refers to the collection and run-off of rainwater for agricultural or domestic uses.
Instead of harvest, the term exploit is also used, as in exploiting fisheries or water resources.
Energy harvesting is the process of capturing and storing energy (such as solar power, thermal energy, wind energy, salinity gradients, and kinetic energy) that would otherwise go unexploited.
Body harvesting, or cadaver harvesting, is the process of collecting and preparing cadavers for anatomical study.
In a similar sense, organ harvesting is the removal of tissues or organs from a donor for purposes of transplanting.
If you would like to visit the studio in Nottinghamshire, (Saturdays and Sundays are fine too) Please call 01623 799 309
We have a collection of over 500 David Shepherd signed limited edition prints and original paintings for sale.
Signed, limited edition, prints and original paintings, drawings for sale.
30 years experience and a collection of hundreds of David Shepherd signed, limited edition prints
Studio open, 7 days a week!
Viewing by appointment
signed prints by the world acclaimed artist L.S.Lowry.View here
Russell Flint
Back to David Shepherd prints for sale.

nine elms
lion 2
Basra
Gemsbok
service by night
farm buildings
happy hippo
original, train
scavengers
baobab tree
black prince
elephant poster
GetToUnderstandTheImportanceOfArt
muffin
cheetahs, drawing
poster prints
lion cub
cheetahs 1967
lionandrhinocameos
ranthamboretiger
bw-cheetah, drawing
sentinel
Iran embassy
elephant 7
original river
cambridge-thebacks
Basra, military
military
train-original
over the forth
original, african elephant
St. Michael's Mount, Cornwall
bengaltigercameo
buffalo
on shed
spitfire
African Cheetah
subnigelmine
somersetharvest
Shibam
biography
celebrationofelephants
africanchildren
snowontheequator
gunraid
mevagissey
scotsman '34
battle imjin
cuneo63
equestrian
City of Germiston
dhalaroad
brush with steam
armysuffield
harbour-mevagissey
Lincoln
cheetahcubcameo
original painting, lion
cheetahsposter
british-wildlife
luangwa
original painting, tiger
guildfordsteamsheds
original-lion7
elephant, pencil
Cambridge, King's Parade
concorde-redarrows
pigs
the man who loves giants
landscape,oak, original
Shepherd street
original-thatchedcottages, Wherwell
manandhispaintings
original-littlejohn
paintings of Africa and India
steam train, original, drawing
christinthebattlefield
royal horses artillery
antelope
SAS
bw-tigers
leopardcubcameo
leopardssketch
artist in Africa
blackfive
original-hippos